PES University, Bengaluru, Wins All South Final ET Quiz 2015
PES University, bangalore, Karnataka
Thursday, 19 February, 2015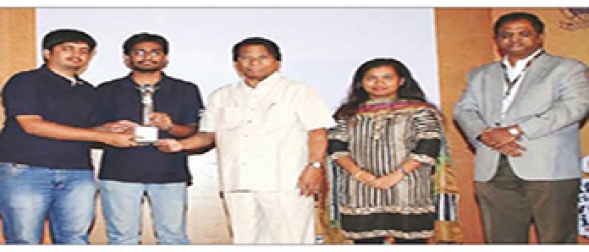 PES University, Bengaluru, emerged victorious in the all-south-finals of ET in Campus (ETiC) Quiz 2015, held in Chennai on Wednesday. The ETiC Quiz is a business quiz with a focus on general knowledge and where questions are handpicked from a regular issue of The Economic Times and from supplements like the Brand Equity.
The team was represented by Gurudatta Alevoor and Adithya Krishna.
The ETiC Quiz was conducted by The Times Group in association with the VIT University, Chennai Campus. Giri 'Pickbrain' Balasubramanian of Grey Caps India was the quiz master. IIT-Madras was crowned the Chennai Champions and they went on to face the other five teams in all south finals. A total of 225 teams participated in Chennai round, and the auditorium at VIT University Chennai Campus, was packed to capacity.
The all south finals were conducted where the champions from St.Thomas College, Pala (from Kochi Centre);PES University, Bangalore; NALSAR Hyderabad; IIT-Madras, Chennai; St.Joseph's Institute Management, Trichy; and GCT Coimbatore battled it out. Lokesh and Balaji from NALSAR Hyderabad and Prateek and Rushabh from IIT-Madras were the first and second runners up, respectively. The event was graced by Chancellor of VIT University, Dr G Vishwanathan.
The gift sponsors for the event were DiMorRa Restaurant, Nathella Sampath Jewellery, Hot breads, Nalas aapakadai, Hotel ITC Grand, Naturals, Radisson Blu, Egmore and Kohinoor Asiana Hotel, OMR.