Higher Education Review ›› Magazine ›› June-2018 issue
Dr. T. Padmavathy Principal, Fusion International School, Hyderabad
Author : HER Team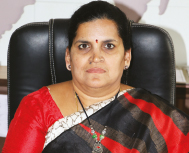 Dr. T. Padmavathy, Principal Fusion International School, Hyderabad
A Ph.D. holder, Dr. Padmavathy was a gold medallist in M.Sc. Chemistry in the year 1988. After working as a teacher in Singapore for a few years, she joined as the correspondent in Fusion International School in 2003 and later promoted as the principal of this well-established school in Hyderabad. She is also a social worker, closely associated with the Prayas Social welfare organization. She was awarded the best teacher in the year 2008 for her commendable commitment towards education and social work. Being a teacher herself, she is adding tremendous value to the management panel. Her creative and innovative ideas have helped FIS in fine-tuning their curriculum and methods of teaching.


The Compassionate Motivator

As a developing nation, India has made significant strides in providing basic education to its citizens. However, certain areas of education still need an immediate remodeling. During her school days itself, Dr. Padmavathy knew that there are some gaps in the Indian education system that are yet to be filled. Holding along the thought and determination of abolishing the voids, Dr. Padmavathy took up teaching after excelling in her academics. A gold medallist in M.Sc, she also earned a Ph.D. degree after which she joined as a Junior Lecturer in a college. Since that day, she realized her responsibilities as a teacher and set a goal of molding the young students into better thinkers and analyzers accordingly. Accumulating international exposure, she even served as a teacher in Singapore for a few years before returning to India in 2003.

"It is a known fact that the education system in Singapore is extremely impressive. I must say, I gained priceless experiences during that period of my life as a teacher," says Dr. Padmavathy. The philosophy of Dr. Padamavathy about education is different. She encourages her fellow-teachers to embrace a flexible curriculum and renders scope to the students to acquire knowledge in a stress-free atmosphere. Dr. Padmavathy states, "The world which the parents see today is different from the world which the present students are going to live. The present learners need to think and address the challenges of tomorrow; hence, the teaching and learning methodologies should be set according to it."

As a leader in education, Dr. Padmavathy always pushes her team to be thorough in their subjects. She says, "Teaching the 21st-century children who are so technologically driven is not easy, teachers should be ready for every possible answer that can quest the thrust for knowledge of the student." Today, Fusion International School (FIS) houses the students in a campus, which is lush green having expansive open spaces that make it a perfect setting for the overall development of the child. The infrastructure of the school containing huge classrooms, tutorial rooms, audio-video facilities, a library stocked with necessary books and journals, laboratories, eco-garden and so on, assisting the students to realize their objectives in life productively. For teaching, the optimum use of ICT is encouraged in the school where the teacher instructs with the help of ActivBoards and other technology-based equipment.