Higher Education Review ›› Magazine ›› June-2018 issue
Madhavi Agrawal, Founder, Cygnus World School, Vadodara
Author : HER Team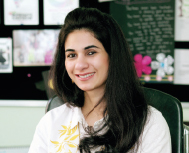 Madhavi Agrawal, Founder Cygnus World School, Vadodara
Hailing from Kolkata, Madhavi Agarwal was educated in Delhi. She did her schooling at Modern School, Delhi and took her BA (Hons.) from Delhi's prestigious Shri Ram College of Commerce. She has also done a long-distance course in Child Psychology from UK and summer courses at Harvard. A strong proponent of all-round development, she also acquired a Diploma in Business Finance from ICFAI. During her education, Madhavi represented Delhi state in hockey and was an active participant in athletics, hockey, tennis and horse riding. A fierce debater and an ardent theatre enthusiast, Madhavi instills the same zeal that she has always had towards sports and co-curricular activities into the curriculum of Cygnus World School.
Leading with a Sporting Spirit
Be it, Madhavi Agarwal, her farther Harsh Vardhan Kanoria or her grandfather Basudev Kanoria, the contributions of Kanoria family to the Indian education spectrum are highly applicable. If the prestigious Bhavan's Gangabux Kanoria Vidyamandir in West Bengal was built by the seed fund provided by Basudev Kanoria, then Harsh Vardhan Kanoria through his Jan Priya Trust has helped many underprivileged kids to get a quality education. In 2011, Madhavi entered into mainstream education by establishing Cygnus World School in Vadodara, supported in every way by her father, Harsh Kanoria. However, Cygnus is not her first venture in the education sector.
Madhavi who is now in her late 30s recounts, "I was married at an age of 21 to a Marwari businessperson based in Baroda. Being a business graduate, I helped my husband with his business for few months. But, I wasn't really happy sitting behind the desk and dealing with those numbers." Madhavi discovered her passion for teaching when she started facilitating a few school kids after their academic hours. She then founded a learning centre named Learning Tree. Madhavi adds, "I started with 10 kids, doing activities that are not done at school. Gradually, with the support of a friend, the Learning Tree thrived to become a playschool and a center of learning and evening activities for children." Simultaneously, Madhavi took up the job of a regular teacher and worked for a couple of years, as she wanted to experience the life of a real teacher before having her own kids at home.
"Believe in yourself as a woman. Be confident and sure about your ideas. One day, if not today, the world will credit you for your contributions" -Madhavi Agarwal