Higher Education Review ›› Magazine ›› June-2018 issue
Anuradha Govind, Principal, JM International School, New Delhi
Author : HER Team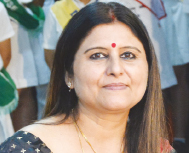 Anuradha Govind, Principal JM International School, New Delhi
Leaving an unequivocal imprint on the education sector, Anuradha Govind is stirring up a positive revolution in the world around her by introducing innovative and experiential teaching methodologies. She has earned several awards and recognition in her credits during the inspiring journey of more than 20 years as an iconic educationist. A prolific thinker and a dynamic researcher, she is the recipient of "Dr Radhakrishnan National Award 2017, Global Education Award, Dr Rajendra Prasad Award 2016, Exceptional woman of Excellence Award 2018 & many more" for invaluable contribution to the promotion of Education, Social Welfare, Art & Culture. Joint Secretory, Delhi State PSA CWA, Panelist with YCF and Bharat Positive, Fever 104 FM,Anuradha recently has been a guest of honor and a speaker in the International Ed-leader Round table and 1st Global Research Conference in which more than 500 educationists participated from 19 countries. Leading different prestigious institutions over the years, presently Anuradha shares her jewel of knowledge among the students of JM International School (JMIS) as the Principal.
The Mentor of a New Nation
Under the charismatic mentorship of her father, an engineer by profession, Anuradha Govind grew up as an inquisitive child. Books were her toys and she would never leave any opportunity that come across her to explore the world around. At an age of 14, Anuradha excelled not only as a versatile & exemplary student, but also as an excellent peer educator. After all these years, Anuradha would still say that her school life has been the most cherished phase of her life, as she enjoyed every bit of it. "Some of my teachers have always remained the path breaking role models. But, I think inspiration comes from within. In fact, teaching is a vocation for anyone who genuinely loves and adores children, and wants to make a difference in their lives," writes Anuradha in one of her blogs.
"A teacher should assist students in growing as a connected human who values their parents, school, and country along with understanding their responsibility towards the society" - Anuradha Govind
A Postgraduate in Science, Education and IT Systems Management, Anuradha, who was also a National Winner in sports and Performing Arts, has been an all-rounder throughout her life. Besides handling her role as an administrator, she has been regularly writing articles for newspapers and magazines. She has been associated with the Bharat Positive mission of Fever 104 FM Radio & with many social initiatives with You Can Foundation and other NGOs, with a commitment and passion to redefine learning and to transform the teaching-learning experience by developing and applying the best pedagogical practices. "I am an advocate of holistic development of the students.The miracles that multi-faceted learning experience providescannot be achieved through following 'academics alone'," opines Anuradha.
At JM International School (JMIS), adhering to the ideology of the Principal, each member heads towards the goal of focusing on fostering creativity, application, and opinion making on the campus. Given this, the school prepared a curriculum after much contemplation which is one-of-its-kind, named "JMIS-SHIKSHANTARAM". Evolved as a school of repute, JMIS has been ranked No. 5 amongst Top Schools of West Delhi, awarded with Quality Brands India Award 2017-19 by National Education & Human Resource Development Organization at Mumbai in 2017, conferred the Global Education Award 2017 for excellence in teaching pedagogy at Global Education Summit organized by 'Leaders Speak' and so on. JMIS is also the proud recipient of the 'International School Award' by British Council for outstanding development of international dimension in the curriculum.
Located in Dwarka, New Delhi, the school notably in 2017 celebrated India's first ever Outdoor Classroom Day aiming to make the basic concept of holistic nature-based learning and free play, a universal concept across all Indian schools. Anuradha elaborates, "Both the students and staff members really enjoyed the campaign. The students engrossed in different games and gained subconscious learning through the activities. To learn beyond class rooms and text books we need to take children outdoors, closer to the real life." Established in the year 2004, the school practices a progressive initiative, "SATH-SATH" where school-community-culture is strongly promoted by organizing open days, Theatre Fests, Sports carnival, Project day and food festival for students, parents, and teachers.