Higher Education Review ›› Magazine ›› June-2018 issue
Anuradha Jain, Principal, Mahavir Public Senior Secondary School, Sundernagar (Himachal Pradesh)
Author : HER Team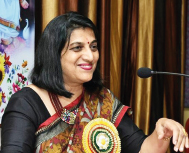 Anuradha Jain, Principal Mahavir Public Senior Secondary School, Sundernagar (Himachal Pradesh)
An Electronic Engineer who turned into a staunch academician, Anuradha Jain is a synonym for devotion and inspiration. She started her career as a lecturer in a government college immediately after earning the engineering degree from Samrat Ashok Technological Institute, Vidisha, Madhya Pradesh. The feedback that she received from her students was the turning point of her life. Dedicated to the teaching community for over 29 years now, Jain was conferred the "Young Scientist Award" which bestowed her chance to do research in IISC, Bangalore. Principal at Mahavir Public Senior Secondary School for last 14 years, Jain recently attended the School Leadership Summit at New Delhi and also received the "Best Teacher Award" based on a survey conducted by Lovely Professional University.
Touching Lives with the Essence of Compassion
Before holding the chair of Principal at Mahavir Public Senior Secondary School, Jain served as an educator in reputed institutes of the country like National Institute of Technology. Today, along with the students of Mahavir Public Senior Secondary School, Jain also helps several underprivileged children to get the much-deserved education. She has a noble dream of imparting education to the children of the locality in a very affordable fee, so that everyone gets the opportunity to achieve big in life. She believes in giving her cent percent to the profession enlightening students with life skills coupled with essential values. "Life is unpredictable. It can present before you several challenges and on the basis of my own such experiences, I prefer my students to be well-prepared to face every difficulty of life," opines Jain.
"From a mentor to friend and philosopher to facilitator, a teacher has multiple roles to play in the education arena" - Anuradha Jain
Offering quality education to students from LKG to Senior Secondary level, Jain motivates the teachers to adopt different methodologies at every level to convey instructions, as the students should be taught comprehending their age groups. Jain shares, "Not just academically, but also in everyday life, reading habits is vital to the child's future. Hence, I have successfully implemented this practice in our school where students daily read newspapers and education magazines." Affiliated to CBSE, Mahavir Public Senior Secondary School promotes a good blend of curricular and co-curricular activities in the campus. With the aim of attaining the harmonious and integrated growth, students are encouraged to focus on their individual interests and passions.
The extremely enchanting atmosphere of Sundernagar, a beautiful town in Mandi District of Himachal Pradesh, is conducive for learning. Located in the heart of Sudernagar, Mahavir Public Senior Secondary School has separate hostels for girls and boys apart from the avant-garde facilities like smart classrooms, indoor games, loaded library and so on. "Had been an engineering student myself, I understand the importance of practical learning in today's age. We include optimum activity-based learning in our teaching-learning process," claims Jain. The school ensures that their students participate in inter-house and inter-School competitions on a regular basis.