Higher Education Review ›› Magazine ›› April-2018 ›› Special issue
Bangalore Culinary Academy: Feeding the Food Industry with Globally Competent Professionals
Author : Sarath Shyam, Managing Editor, The Higher Education Review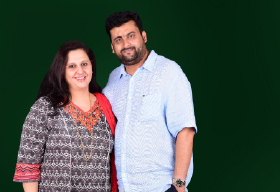 Rajesh Nair, Founder & Chairman, Sheraz Nair, Co-founder and Director Bangalore Culinary Academy
Bangalore Culinary Academy was envisioned by Rajesh and Sheraz Nair as an institution offering advanced International culinary and hospitality education in India at the most affordable and lowest prices in all of Asia.
Academy as the name suggests is an institute of higher learning and that is what BCA focuses on. Ensuring that students are industry ready and well equipped to handle industry requirements by the time they pass out with their International Diplomas in hand.
Sheraz and Rajesh Nair the promoters of the Bangalore Culinary Academy started their journey in the hospitality world over 20years back. Graduating with BHM degrees in 1997 both Sheraz and Rajesh started their careers at leading hotel chains in India. Rajesh moved in to work with the kitchens at top properties of the CGH earth group while Sheraz was recruited under the management program of the Taj group of Hotels.
Over the years they moved onto bigger challenges and opportunities but destiny has a funny way to lead you to your calling, and that is when 20 years after the beginning of their journey they decided on starting their own educational institute to feed to the industry professionally, trained and poised students. What started off as a Culinary Institute slowly evolved into an institute offering Hospitality and Culinary Training increasing the course offerings to International Diplomas in Hotel Management.
The academy has a strong faculty pool of professionals who are experts in their field of work and have the necessary qualifications and experience
The industry by its nature is fast paced and vibrant and needs students who can take on responsibility and pressure from the day they join. Hoteliers don't want to spend month training and grooming fresh recruits, they want ready to work professionals. What one learns in college is very different from what one experiences in the industry. Students unless nurtured in the right direction are unable to take on the stresses of a hustling hospitality industry leading to early attrition rates. Courses at BCA offer to students the mechanism to deal with every day, real life work situations for them to be able to succeed in the industry.