Higher Education Review ›› Magazine ›› January-2018 issue
Centre for Media Studies, Presidency College: Providing the Perfect Start for Media Aspirants
Author : HER Team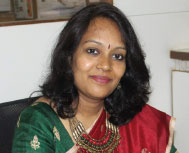 Shilpa Kalyan, Head Centre for Media Studies, Presidency College
Professional and practical opportunities are key components of a productive learning experience for students in journalism and communication fields. While, the media industry is witnessing unprecedented changes, Centre for Media Studies at Presidency College leads the way with its unique blend of theory and practice, knowledge and implementation. Located in Bangalore, the hub of cutting-edge education, Presidency College is creating a new generation of media professionals who can find new ways to understand audiences by not only thriving in this exciting new landscape but also helping to shape it.
The Centre for Media Studies at Presidency, since its inception in 2010, has proved to be one with a difference
"Journalism is a creative field, cannot be taught like any other subject. We adopt our own unique strategies to train the students," states Shilpa Kalyan, Head - Centre for Media Studies, Presidency College. The Centre for Media Studies at Presidency, since its inception in 2010, has proved to be one with a difference. 'Be creative to understand the power of imagination' is the mantra of Presidency team, which helps the media students to get a good start in the industry. Kalyan adds, "We prepare each and every student to be resilient, independent, creative and individuated."
Moulding versus Teaching
Presidency College has an extremely democratic work culture. The Department follows an inter-disciplinary approach with faculty members from diverse fields of expertise. The journalism course is very effectively synchronized with subjects like Psychology, Political Science and English Literature. The department also includes subjects that do not conventionally come under Humanities. There are faculty members specializing in Economics, Management and Environmental science. They ensure that the students acquire skills of journalism with a humane approach. Students are trained in soft skills and value added programmes to enhance their personal and professional skills.
It is the understanding about the industry facilitating the learning and employability. On this behalf, the college maintains a strong bond with various constituents of media industry like Print media, Electronic Media, Advertising, PR and so on. To keep themselves in pace with the changing trends of the industry, the faculty members upgrade their knowledge and skills by participating in Conferences, Workshops, Faculty Development Programmes and Seminars. "The College was the proud host of the Global Apprentice Conference organized in partnership with the International Advertising Association (IAA). Top names from media, PR and Advertising guided students about the disruptions happening in the industry, professional opportunities and how to prepare for a career in the media industry," pinpoints Kalyan.