Higher Education Review ›› Magazine ›› June-2018 issue
Charu Wahi, Principal, Nirmal Bhartia School, Dwarka (New Delhi)
Author : HER Team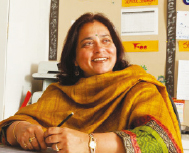 Charu Wahi , Principal Nirmal Bhartia School, Dwarka (New Delhi)
An ardent believer in inclusive education, Charu Wahi is a woman of many parts. From beginning her career as an Elementary Educator at The Shri Ram School, then setting up and heading its Aravali branch in Gurgaon as Junior School Principal to holding the position of Founder Principal at Nirmal Bhartia School (NiBS), Wahi has had a rich, diverse and enriching learning journey. A firm believer in lifelong learning, she attended the Project Zero programme at Harvard University and has also completed courses in 'Leading for Understanding and Coach Development' as part of Harvard's Wide World Programme. Appreciating her passion for teaching, she has been conferred the 'Inspiring Best Teacher Award' by the University of Engineering & Management and WEBCON and in recognition of her contribution to the field of education, Amity University, Lucknow and the Institute for Career Studies, Lucknow felicitated her with the "Educational Leadership" award. She was also accorded the 'Exemplary Contribution in Education' award by The Early Childhood Association, India.
A Believer in the Power of 'We'
Having completed her schooling from Carmel Convent and Modern School, Vasant Vihar, Wahi pursued an Honour's degree in Applied Psychology from the reputed Lady Shri Ram College and also specialized in Child Development as a part of her Master's programme at the South Campus University of Delhi. Having conducted her thesis on the topic of 'dyslexia', Wahi was always firm in her belief that every child should be treated equally. Given this, she was closely involved with the cause of Inclusive Education and the designing of a Special Educational Needs programme. She has also conducted intensive teacher training workshops across the country. A person who loves to live her life to the fullest, Wahi is a spontaneous poet, along with being a profound administrator.
"A leader should encourage her team to explore new horizons as their learning will ultimately come back to the classroom" - Charu Wahi
With her extremely positive attitude and perseverance, Wahi along with her team, has taken NiBS to new heights. "NiBS is the vision of our Chairperson, Ms. Pooja Jhaver, and it has been both, personally and professionally, extremely gratifying to have been able to translate her vision into a reality", says Wahi. Established in 2006 with 15 children, today the school hosts almost a 1000 children and 90 staff members, nurtured and led very ably by Ms. Wahi. According to the ranking of Education World, a magazine that conducts research on over 900 premier educational institutes across India each year, NiBS has been ranked number one in the "Individual Attention to Children" category for three consecutive years. With a keen focus on conservation and preservation of the environment, the school was also awarded a "GOLD" rating for 'The Leadership in Energy and Environmental Design' (LEED) building certification and conferred a "PLATINUM" rating, which is the highest in Global Leadership Standards at International and National levels.
NiBS is located on a two-acre campus in bustling Dwarka, where students are provided a secure and cheerful space to grow holistically. The campus is designed in a way that spells personalized, creative, and adaptive expressions of a culture that inspires learning and fosters community.