Higher Education Review ›› Magazine ›› May-2018 ›› Special issue
Christ Institute of Management, Lavasa: Meeting the Dynamic Needs of Industries in the Information Age
Author : HER Team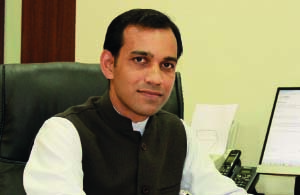 Dr. (Fr.) Jossy P. George, Director Christ Institute of Management, Lavasa
If the reports on the job market are anything to go by, India had created over 50, 000 vacancies for analytics related roles in 2017 and it was expected to rise to 80,000 to 100,000 by 2018. However, despite having a large number of people in the working age, we have not been able to match the ever-growing demand for analysts in the country. While the demand outstrips the supply, Christ Institute of Management (CIM), Lavasa is optimistic about its newly designed Post Graduate programme in Business Analytics. Dr. (Fr.) Jossy George, Director of CIM Lavasa, says, "The demand for people with analytical skills and business acumen has been rising exponentially in the recent past. We as an institution with a high degree of industry participation in curriculum design are keen on introducing Business Analytics specialization in our Post Graduate programme."
When it comes to innovation and knowledge building, the institutes under the Christ (Deemed to be University) are second to none. CIM Lavasa too has been doing exceptionally well in this regards since its inception. Now, by introducing its latest and unique programme in Business Analytics, the institute is poised to be the best for pursuing a full-time program in this emerging field. "The two-year full-time programme in business Analytics would provide training and development to cultivate the required expertise for a candidate to secure the best opportunities in the industry. Our practiced pedagogy makes extensive use of case studies, data-based decision making, project-based learning and Harvard simulations," explains Dr. (Fr.) George.
With an exclusive office for Placements and Industrial Interface that acts as a liaison between students and industry, CIM Lavas offers 100 percent placement assistance to all registered students.
Remarkably, CIM Lavasa has designed the curriculum of Business Analytics along with the lines of programmes offered by the best business schools in the world such as Stern Business School, New York University, Indian Institutes of Management -Ahmedabad, and Bengaluru, and Indian School of Business, Hyderabad. In addition to that, CIM Lavasa has included many industry leaders and academic experts in its curriculum design process. This has resulted in the formation of an excellent teaching strategy that combines academic elegance and business relevance. "We have always been keen on taking industry feedback before making any changes in the teaching-learning process. In fact, all our programmes are industry-oriented and every week we conduct guest classes where people from the industry would come and share their knowledge with our students," adds Dr. (Fr.) George.
The Finance, Marketing and Human Resource curriculum at CIM Lavasa is designed in consultation with some of the foremost authorities in the field. The programmes are crafted to provide our students with resources and knowledge that rival the best MBA programmes in the world. In addition, as an institution, we incorporate Harvard business cases into our pedagogy in order to enable our students to apply their mind to real-world problems and gain expertise on the importance of critically assessing a business scenario.