Higher Education Review ›› Magazine ›› June-2018 issue
Dr. Kavita Khullar, Principal, Doon International School, Srinagar
Author : HER Team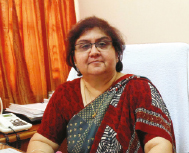 Dr. Kavita Khullar, Principal Doon International School, Srinagar
From a dedicated and passionate teacher to an equally passionate administrator, it has been a pleasant journey for Dr. Kavita Khullar. The outcome of her 25 years of academic life as an educationist who has kept the child within still alive. She has attended Principal's Conference conducted by the State University of New York and has received an award for the participation of Professional Development Conference at SUNY Old Westbury. She has been awarded for successfully completing the three days of professional development on Leading High Achieving Schools at the State University of New York at Oswego in 2015. As a speaker for the roundtable discussion, Dr. Khullar has also participated in the 11th World Education Summit 2017 – Dubai. An ardent sports lover, Dr. Khullar has represented Women's Cricket at University, National and State Level and received Haryana State Scholarship for Cricket.
The All-Rounder
Complementing the northern periphery, Srinagar is a land of queer beauty endowed with nature's best. Doon International School is one of the few CBSE schools in Srinagar running under the aegis of Doon International School Dehradun. Dr. Kavita Khullar who believes in rendering equal emphasis on life skills in parallel to focus on academic curriculum, is the driving force behind Doon International School. Known for her leadership style, which is more of a motivational type with an implementation-oriented approach, Dr. Khullar is a favorite of her students. "During the tenure of my career, I have witnessed the transition of the education system - from traditional methodology to child-centric approach. Being able to adapt to the challenge of change was an essential achievement to me," says Dr. Khullar.
When the job market is longing for candidates who are holistically trained, the school under the leadership of Dr. Khullar has taken the responsibility of skilling up the students' right from a tender age ensuring their success in future. Alongside academics, every child at Doon is encouraged to take up a sport given a vast choice including Roller Skating, Cricket, Football, Volleyball and so on followed by providing professional coaches. "At Doon International School, we believe that Sports plays an important role in the life of a child. The qualities of leadership, teamwork and sporting spirit are learned on the sports field," claims Dr. Khullar.
For me, life is like an echo, all comes back, the good, the false and the true, so give the world the best you have and the best will come back to you. -Dr. Kavita Khullar