Higher Education Review ›› Magazine ›› June-2018 issue
Dr. Kiran Singh, Principal, AVN Vida International School, Gachibowli, Hyderabad
Author : HER Team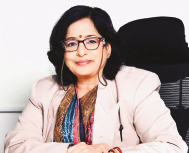 Dr. Kiran Singh , Principal AVN Vida International School, Gachibowli, Hyderabad
A multifaceted personality, Dr. Kiran Singh's one of the facets is that of being a visionary educationist. She completed both her graduation and post-graduation from the prestigious Banaras Hindu University followed by PhD in History. With her continued efforts to empower herself, she also went on to obtain B.Ed and M.Ed from Jammu University, DCE from IGNOU and late, PGDGC under the supervision of renowned educationist, Dr. Ravindran. She has been a meritorious student all through her academics, keeping alive aspirations of doing something meaningful in her life and for the society. Hailing from a reputed educated family, Dr. Singh developed an inclination towards teaching profession at a very early age. For her, teaching is a way to change one's life and being a philanthropist she became part of, and headed many such initiatives through which children from all strata of society could pursue education and fulfill their dreams. She has contributed immensely in college education too as Director and College Administrator.
Carrying the Dream of Nurturing an
Entrepreneurial Mindset Amongst Gen X
Married to a decorated Army officer who belongs to a rural area of Allahabad, Dr. Singh was probably the first woman with such high-qualifications in those days in the village. "The rural folk's mindset for girl's education was not so impressive. Girls were never encouraged to venture out and learn.However, my presence in such environment did help in bringing about a positive change, first within the family and slowly in the neighborhood," recalls Dr. Singh. Even now, whenever she visits her village, she has time for personal counseling of girls on education matters. This includes visits on request, to several girl's and Children schools in surrounding areas. "Their affection and innocence are unparallel," she recounts her memories.
"One should try to empower others, making everyone feel equal in the team defines a leader in a true sense." -Dr. Kiran Singh
Dr. Singh strongly emphasizes, "We can't expect progress by only educating urban class, there should be equal priority and opportunity given to rural background children of the country." Her husband's nature of job involved postings in remote corners of J&K and in the hinterlands, in Jharkhand, where she could closely associate herself with numerous ongoing initiatives of Army in imparting education and empowerment of girl child and women. As her husband was most of the time away from home, deployed in field and border areas, she had to be in the role of mother and father for her children and guardian to family but she could balance the conflicting requirements with ease. The passion and perseverance that she has for her profession of teaching was enough to overcome all the roadblocks.
Today as Principal in AVN Vida International School, Dr. Singh is idolized among her peers and team not only as leader but a friend, motivator and influencer. "When you have been given the charge of managing a certain team, according to me one should work closely in coordination with the team instead of only directing and when required, lead from the front," states Dr. Singh. She propagates the flexible and stimulating learning approach in the school where the teachers are encouraged to amalgamate lessons that weave social, moral and ethical values, and then finding opportunities for students to reinforce their use in their day to day behavior.