Higher Education Review ›› Magazine ›› June-2018 issue
Dr. Monalisa Dash, Principal, Shantiniketan International School, Hyderabad
Author : HER Team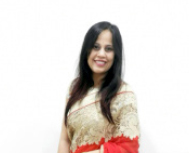 Dr. Monalisa Dash, Principal Shantiniketan International School, Hyderabad
Starting her teaching career at the early age of 20, Dr. Monalisa Dash is a versatile educator, who served in the varied role from a soft skill trainer for the management students, IB teacher at Oakridge International School to PYP coordinator and finally as the Principal at Shantiniketan International School (SNIS). Before joining SNIS, Dr. Dash also worked at Geethanjali, the Global School as a Founder Principal where she with her unbeatable efforts helped the school arrive a turnover for 700 students in a span of three years. She has attended several National and International workshops and seminars as IB educationist. A recipient of a Gold medal and Jyoti Ratna Award for her thesis on Oscar Wilde's "The Importance of being earnest" titled "The Sacred and the Profane", she also received Konark award as an Odissi dancer. Apart from teaching, Dr. Dash also did freelancing and news reporting for AIR, authored 200 books for the Primary school along with supporting three girls' education.
Resilient to Failure
A multi-talented and philanthropist by nature, Dr. Monalisha Dash picked up teaching as her profession with the aspiration of empowering her students to identify issues and find a solution to the same, make choices in life and become problem solvers. Dr. Dash as a Principal plays a significant role at SNIS, where she keeps an eye on every child's progress personally with the help of the team of proficient teachers. Offering CBSE as well as IB syllabi, SNIS hosts students from Nursery to 12th standard. The factor that makes SNIS unique from other international school is its pledge of instilling the students' global thoughts with right attitudes and values.
"Although we expose students to the global trend we also ensure that globalization doesn't affect the values of our students. As we allow them to make choices, we also teach them to keep their values intact while composing their choices," opines Dr. Dash. Right from the formative year till their maturity, students at SNIS are groomed in a manner that makes them holistically developed and ready to confront the real-life situations. Located at Sanikpuri, Hyderabad, the school was founded and managed by KPR Educational Academy consisting of a management board that is having a vast experience of over 26 years in running successful educational institutions in the city.
"I do not fear failures, as I ensure that I prepare strategies to win." -Dr. Monalisa Dash