Higher Education Review ›› Magazine ›› April-2018 ›› Special issue
Dr. N.S.A.M. First Grade College: Empowering Students for Sustainable Careers
Author : HER Team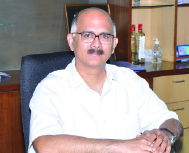 Dr. R. Shanti Iyer, Principal Dr. N.S.A.M. First Grade College
In North Bangalore, Yelahanka, a self-sufficient township, is a thriving financial center. The proximity of Yelahanka to the Devanahalli Airport as well as important IT organizations and its quality social infrastructure entailing colleges, hospitals, restaurants as well as shopping complexes, give the town an edge over other popular localities in the garden city of Bangalore.

One of the major educational establishments in this region is Dr. N.S.A.M. First Grade College, which was incepted in the year 1999 by Nitte Education Trust, Mangalore, a pioneer in the field of education since 1979.
The college offers BBA and B.Com degrees coupled with Value-added Certificate Programs like 10-week Personality Development Certificate Course, 30-hour Employability Training Certificate Course, 30-hour Yoga Certificate Course and Certificate course in Classical Music, and so on. "Before the commencement of BBA classes, we have conducted a 30-hour bridge course in Accounts and a 50-hour course in English. C. Foundation courses are also made available to students as an add-on," pinpoints Dr. R. Shanti Iyer, Principal, Dr. N.S.A.M. First Grade College.

Under the B. Com course, the students get the flexibility to choose a specialization from a wide range of options, viz. Accounts, Finance, Banking, HR, and Marketing. Apart from this, fulfilling the promise of brightening the future of students, the college organizes coaching for CPT, IPCC and ICWA, Communication Skills training and a few Computer related value-added courses. Dr. Iyer shares, "In a scenario when education and technology is changing fast, it is our duty to keep up our curriculum updated with the latest requirements." Bridging the gap between the academia and industry and improving the employability quotient, the college regularly enriches the curriculum with additional modules on Skill Development. The faculty members are adept at using innovative teaching and learning methods like role-playing, case study, e-learning and also Peer mentoring. These techniques enable students to learn more efficiently compared to the conventional teaching-learning process.

Enhanced Learning Framework

Situated on a sprawling 23 acres verdant campus with excellent infrastructural facilities and amenities, Dr. N.S.A.M. First Grade College is now a preferred college for students in the neighboring areas. "We focus more on developing students holistically, as it empowers them to achieve greater heights in their careers and grow up to be good citizens of the society," mentions Dr. Iyer. Facilities like central library, well-equipped Computer and Commerce Labs, provision of using the research space and so on exist on the campus. The College also has an Institutional membership with various reputed libraries such linked to British council and IIM, Bangalore. We also have an institutional membership with N-LIST.