Higher Education Review ›› Magazine ›› June-2018 issue
Dr Parul Kumar, Principal, Navy Children School, Visakhapatnam
Author : HER Team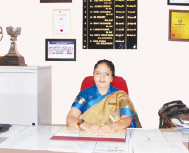 Dr Parul Kumar, Principal Navy Children School, Visakhapatnam
A patriotic at heart and teacher by profession, Dr Parul Kumar is a visionary administrator who holds an exquisite dream of making the nation a better place to live in through education. Having an explicit thrust for learning, Dr Parul has earned several degrees during her lifetime, making sure that she transfers the best wisdom to her students. Her educational qualification includes Bachelor's in Home Science, Master's in Food & Nutrition, B.Ed and M.Ed from Annamalai University, M.Phil in Education from Madurai Kamaraj University and Ph.D. from Chowdhary Charan Singh University, Meerut. From teacher to Vice-Principal and Assistant Professor to Principal, Dr Parul has been rendering her service for many years now. Honoring her contribution in the education field, Dr Parul who is now holding the position of Principal at Navy Children School (NCS), Visakhapatnam has been awarded for being one of the 100 most effective Principals of the country by Alert Knowledge Solutions and also conferred the Dewang Mehta Education leadership Award.
Fuelling the Life of Future Citizens
From the very beginning, Dr Parul Kumar was captivated by the unique power of being able to change somebody's life through providing guidance and this made her definite to take up teaching. "For me, teaching is something which not only involved with finishing the chapters or subject; it should be a means of inspiration," opines Dr Parul. Married to a Naval Officer, Dr Parul got the opportunity to share her knowledge with a large number of students right from standard one to M.Sc level, possessing a range of capabilities throughout the country. Dr Parul pinpoints, "The versatility I gained in my career today helps me at NCS to lead my team skillfully."
"If you see the history, the best leaders have been only those who lead by example and not simply by words" - Dr Parul Kumar
Carrying her biggest learning that every student is capable, provided the teachers maintain their patience, Dr Parul believes in working with her team hand-in-hand, acting not as a dictator but as a team member. At NCS, students are taught in an inclusive set up, where teachers pay substantial heed on designing lesson plans for all kinds of learners, focusing on minimum learning level and high order thinking skills. Although a community-based school, which largely caters to the children of the Armed Forces personnel, the school also hosts a fair percentage of other students. As soon as a child is enrolled at NCS, it is double-checked that their assessment is done, which in turn will help in formulating the individualized education program for each child.
"As most of our students belong to Armed Forces families where one of their parents is often away from them for meeting the line of duty, our accountability multiplies in terms of handling the child emotionally. We always strive to live upto the expectations of such parents towards us," shares Dr Parul. The School grabbed several recognition like no. 9 rank among the military school in India by Education Today, NES Trophy for best performance of Class XII since last 2 years among all the Navy Schools spread across the country, best school in academics among all the schools under Eastern Naval Command and so on, NCS Vizag has been maintaining no. 1 position in city as well as in state since last 3 years as per Education World.