Higher Education Review ›› Magazine ›› December-2016 ›› Special issue
Fostering Innovation: B.L.D.E.A's V.P. Dr. P.G. Halakatti College of Engineering and Technology
Author : HER Team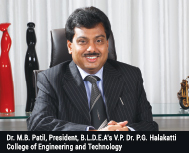 An educationally and economically backward district Bijapur had a bright ray of hope when men of philanthropy founded Bijapur Liberal District Education Association (BLDEA) with a visionary zeal in year 1910. B.L.D.E.A's V.P. Dr. P.G. Halakatti College of Engineering and Technology was established by the Bijapur Liberal District Education Association, Bijapur in the year 1980. The institute offers eight undergraduate, nine postgraduate programs besides research programs in six disciplines.

The need for quality technical education in the country inspired the foundation of the institute. To achieve this objective, it has striven hard to create an environment and infrastructure that enables it to produce qualified, practical engineer who are ready to face the challenges in the industries. Behind the inception of this association were the vision, foresight, and relentless efforts of eminent lovers of Knowledge such as Vachana Pitamaha Dr. P.G. Halakatti, Shivayogi Sangana Basava Swamiji of Banthanal and their disciples.

In the current education scenario, the importance of research decides an institute's ranking and its state of quality. With regard to this, the institute facilitates six departments (Mechanical, E & E, Computer Science, Civil, Chemistry and Mathematics) and more than six research labs to encourage the staff and the students to indulge in research. However, the institute believes in providing a holistic approach to learning. The student teacher relationship is very crucial and effective in the institute. The highly qualified faculty emphasizes the quality teaching learning process. The teaching learning, research and administrative processes are quality driven and embellished with continuous improvements to meet the global standard by rigorous adherence to set procedures and exhaustive quality audits.

Tutorial Classes are conducted for difficult subjects with remedial classes for academically weak students. Students are encouraged to involve themselves in innovative mini projects, workshops, internships and seminars. Over the years the staff strength and student intake have grown from 25 to 225 and from 120 to 1152 respectively. The staff strength is reinforced with 15 Doctorates, 175 Post Graduates. The staff members work hard to provide students with the requirements of top-notch engineering and management industry. Further complementing the teaching methodology and inducing employability, the institute has MOUs with Intel FICE, Infosys Campus Connect, IT incubation Centre (Govt. of Karnataka), Bosch Rexorth centre of excellence, Tata Technologies, IBM. Through these MoUs regular training is given to the students wherein they utilize opportunities to carry out industry related projects which helps them to develop skills required by the industry.

To satisfy the ever-changing industry scenario, the course syllabus should change continuously. He mentions that by having academic autonomy, the curriculum gap can be bridged to satisfy the ever changing industry needs. In this respect the institute is in the process of seeking autonomous status from the academic year 2017-18.