Higher Education Review ›› Magazine ›› June-2018 issue
Girija Singireddy, Academic Director, Mount Litera Zee high School, Hayathnagar, Hyderabad
Author : HER Team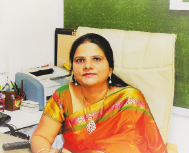 Girija Singireddy, Academic Director Mount Litera Zee high School, Hayathnagar, Hyderabad
Formerly a Manager, today Girija Singireddy with her professionalism, responsiveness and hands-on approach has successfully turned into a praiseworthy administrator in the education sector. Brought up in Hyderabad; Girija, who was also a National athlete till 2002 did schooling from St. Georges Girls Grammar School and St. Ann's College, Mehdipatnam respectively, followed by completing graduation in Computer Application from Aurora Degree College and obtaining an MBA degree from the AV College. She is also a SAP professional. Worked for a brief stint with an eminent technology company as a recruiter, she decided to take a break after getting married. Anyhow, it was in 2009, when her husband and his friends, who are a group of doctors and software professionals, took the plunge to impart quality education, with a difference by establishing a school with Mount Litera Zee High School. Since then, Girija started to observe keenly on the nuances of education and also went through training, gaining the expertise of leading a school. As the Academic Director of Mount Litera Zee high School, Hayathnagar, Girija has an insane drive to take the school to greater heights.

Mixing the Right Ingredients of Learning to Excel

The saying, 'everything happens for a reason', aptly applies in the life of Girija. Proved to be her true calling in life, now Girija is passionately in love with her profession, she says, "My heart, soul and mind, everything belongs to the cause of education. I want to see my students reaching the highest ladder of success holding leading positions in top-notch organizations and also initiating their own ventures". Girija believes that Zee high School's USP lies in enabling the students to think out-of-box and gifting the ability to evolve and innovate. From slow learners, below average to bright students, the school welcomes each student with an open arm without demonstrating any partiality.
[HER_QUOTES]
"For us, a child is a gift from God and he/she surely carries an innate potentiality. It is on us to identify their uniqueness and give back them the grooming that they deserve," opines Girija. The school imparts matchless education to the students ranging from pre-primary to senior secondary level. The content and curriculum followed by the school are duly provided to focus primarily on the rounded development of the students. Being a pragmatic leader, Girija along with her team of teachers and the Principal of the school takes numerous initiatives to educate the students beyond the classrooms and textbooks. Girija mentions, "Education system needs to be remodeled in AP & Telangana, as most of them follow rote learning and in such system, it won't add value to the country, also we need to change parents' mindset". The school abides by to an exclusive student-centric approach where the child is given the space to grow in a free environment.

Considered as one of the top CBSE schools in Hyderabad, the school under the leadership of its visionary directors has bagged several awards such as Pride India Award by the then Chief Minister of Andhra Pradesh, Sri. K. Roshaiah, British Council's International School Award and ranked 3rd best schools in Hyderabad by Times Now survey conducted in 2017 and 2018 respectively. Already four batches of 10th standard passed and the results earned by the collaborative effort of the students and school, itself spell regarding the bar of excellence that the school has set. "As a team we discuss a lot, rendering a priority on molding the future of our students. Each achievement is the outcome of the hard work and consistency of the stakeholders of the school," shares Girija.