Higher Education Review ›› Magazine ›› March-2018 issue
Glider Aviation Services: To Experience the World from Heights
Author : HER Team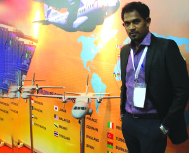 Capt. R. Balakumaran, Founder Glider Aviation Services
Although, starting an academy on aviation services was an overnight decision, Capt. R. Balakumaran, the founder of Glider Aviation Services had explicit goals set with it. He says, "Working in the aviation field is not an easy task. It demands a different level of passion and complete understanding of the sector. Unfortunately, many aviation-training institutes have taken it as a business and hence lost its true essence. Recognizing this fact, I started setting my plans to impart a perfect training for the field. Started as a consultancy to guide aviation aspirants, Glider Aviation Services with its commitment to provide quality education quickly expanded its portfolio to become a one-stop destination for aviation training. Now, Glider Aviation Services has as a flight school in Manila and a training academy in Chennai.
"The journey from a consultancy to a flight school was not as easy as expected. In 2009, we started providing consultancy services, which gave me an in-depth idea regarding the issues in the aviation training field," shares Capt. Balakumaran. Gliders team entered the aviation world from a subordinate level competing with fifteen other aviation organizations. Now, working with a motto to bring all aviation needs in one roof; the team of professionals draws strategies that seamlessly synchronize with the market expectations.
Gliders team entered the aviation world from a subordinate level competing with fifteen other aviation organizations.
Today, all airlines are warming up for the next round of hiring, which is poised to create thousands of new jobs in skilled trades such as pilots, cabin crew, aircraft maintenance engineers; besides a large number of ground staff. Identifying the increasing demand, Glider Aviation offers courses in cabin crew training, pilot training and ground staff training. Usually, students with a degree background are much-suggested recipients, but 12th students are also eligible for these courses as per DGCA norms. "Our admission criterion is based on the passion for the field. So, at the time of admissions, students undergo a strict evaluation regarding their decision to choose this field," opines Capt. Balakumaran. At Gliders, the industry-experienced team with the support of the best study materials handles the training.
With the well-focused team, Gilders team has been contributing a lot to the aviation field. Along with these, this government registered and ISO certified company is now in the mode to bring about a new quality of education in all the aviation courses. The concluding remark of Capt. Balakumaran is also a kind of wish, which implies that the glory days of flying are not yet over. As it is spectacular to see the world from above, Gliders Aviation Services can be of great support to experience it with a lot of fun.