Higher Education Review ›› Magazine ›› January-2018 issue
Indira School of Communication: Discovering the Passion
Author : HER Team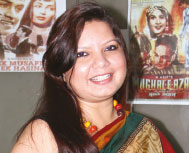 With an increase in the number of television sets, news channels, radio stations and advertising on an everyday basis, the Media and Entertainment industry seems to be transcending into a growth engine, resulting in opening up newer windows for a dynamic career. Indira School of Communication (ISC), a brainchild of Dr Tarita Shankar, Chairperson of the Indira Group of Institutes,is a forward-looking academy established in 2004 working on polishing and grooming of media aspirants. Recently, ISC also has its own acting academy designed to train both debutant actors as well as those with experience, ISC's ActingAcademy provides actors with modern on-camera acting techniques rooted in time-honoured theatrical traditions.
On the traditional media education front, ISC presently offers undergraduate programme in Mass Communication (UGP-MC), Post Graduate Programme in Mass Communication & Professional Acting Course. "Characterized with a strong academic-industry interface, ISC is all about creating a platform of excellence that will help uplift the standards in the professions of news, radio/television software, advertising, public relations, and media management."We have a strong industry connect and are in tie-ups with major media publication houses and PR companies for internships, training and placements," states Prof. Renu Garg, Director, ISC.
ISC creates plenty of opportunities for trainees to engage in such networking
Working with the Industry
Regular industrial visits where students get to engage with experts are the norms at ISC. Even the industry experts visit the campus regularly to deliver guest lectures and seminars on the latest advancements in the fields of media and communication. These tie-ups also give way to a lot of practical exposure through field and onsite visits for the students. Further, to add on to the confidence, the institute encourages the students to participate in seminars, conferences and workshops in and outside the campus.
Along with the industry tie-ups, the strong alumni network also plays the role of significance in the training of students. "We have huge alumni network with approximately 1500 members, this helps us in providing internship opportunities for existing students andconducting guest lecturers on relevant topics as many of our alumni members are either working with the reputed firms or have eared industry stardom,thesealumni interactionsenhance the knowledge and career opportunities," claims Prof. Garg. The popular Bollywood actress Sonali Kulkarni, Rahul Sharma (Chief copy editor at The Times of India), Sanidhya Jain (Star Sports, Mumbai) and Jeevan Thomas (Head of content and operations, Times of India Bangalore) are few among the strong alumni network maintained by the institute.