Higher Education Review ›› Magazine ›› March-2018 issue
International Institute of Aviation: Abolishing the Shortage of Manpower in Aviation Industry
Author : HER Team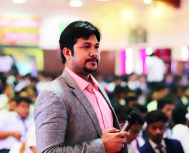 Dr. Sumeet Suseelan , Chairman International Institute of Aviation
One of the major cities in the state of Chhattisgarh, Bhilai " popularly known as the steel city " is a major education hub in the central part of the country, especially for technical education. Hailing from this small town, however, Dr. Sumeet Suseelan had a different aspiration - Airplane. With a strong desire to be a part of the aviation industry, Dr. Sumeet worked hard and joined Air Deccan at Mumbai International Airport as ticketing executive, that too at an age of 18. It was the beginning of a different era in his life. After working with different airlines as ground personnel, Dr. Sumeet became the first Indian to be selected as Flight Steward for one of the world's best airlines, Air Asia.
The students at IIA are taught in an aircraft modified classrooms following a unique curriculum and pedagogy.
With all the experience that he gained over the years, Dr. Sumeet is playing a different role now. In Bhilai, he has started the International Institute of Aviation (IIA) with a vision to provide well-trained manpower to the Aviation Industry. Under his Chairmanship, IIA has already achieved many prestigious awards and gained the reputation of being one of the best aviation training institutes in the county for excellence in education and placement. "IIA is the only institute owned and run by professional cabin crew members and we have decades of experience in the aviation industry," says Dr. Sumeet.
Affiliated with Aerospace and Aviation Sector Skill Council, IIA offers 1-year Diploma in Aviation Hospitality and Travel Management coupled with 6-month Certification course in Ground handling and Airline Ticketing. The classes are conducted through projectors and students are encouraged to clear their concepts from day one. The students at IIA are taught in an aircraft modified classrooms following a unique curriculum and pedagogy. Dr. Suseelan opines, "The trainers possess a good proportion of industrial experience and theoretical knowledge. We have also trainers who are currently employed by leading airlines as In-flight managers/Directors." The students are rendered on-job training owing to the institute's tie-ups with Airports along with collaboration with leading 5-star hotels such as Radisson Blue hotels and Marriot Group for the training of Hospitality students.
IIA is also the only institute who has Endorsed AASSC books &having Ground-handling agency License by name Jayam Aviation Pvt Ltd to provide ground support in all India Airports. "Facilitating 500+ interviews every year, our institute has set a 100 percent placement record where the students get placed in the most reputed airlines and organizations around the country," claims Dr.Sumeet. Signed an official Manpower agreement with Air Deccan and Air Odisha Airline to provide manpower under the PM UDAN scheme, IIA prepares its students to match the market standard. Taking care of from grooming the students to infusing practical expertise, IIA aims to be at the topmost in overall aviation institutes by addressing best placements, awards, and recognition.