Higher Education Review ›› Magazine ›› July-2018 issue
International Institute of Culinary Arts: Putting the Nation on the Global Culinary Map
Author : HER Team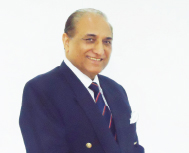 Virender S. Datta, Founder International Institute of Culinary Arts
With the mass acceptance of continental and oriental cuisines and the entry of international food chains and specialized restaurants in the recent times, the hospitality sector is facing a paucity of trained chefs in the country. This is when a versatile Chef, Virender S. Datta who has over 50 years of experience in Hotel & Hospitality Industry, took the plunge to initiate a coveted institution which will be dedicated to rendering quality culinary education to the aspirant chefs. "Being a professional chef is not a plain sailing task. It demands one to be active, passionate and hardworking at the same time. Due to the shortage, industry giants had started recruiting people who are not amply trained; the existence of International Institute of Culinary Arts (IICA) is to tackle such situation," shares Datta.
Along with the qualified faculty members of the institute, IICA also invites professionals from the industry to assist the students in getting insights on the on-going trends in the hospitality industry
Based in New Delhi and established in 2015, IICA in a very short span of time has been able to grab the attention of students from different parts of the country through offering internationally recognized qualifications and unmatched industry exposure. "Getting the heart-filling responses from the stakeholders of culinary education and in an attempt to reach optimum students, we have inaugurated the second campus of IICA in Gurgaon," pinpoints Datta. The institute offers three courses to the students' viz. Advanced Diploma in Culinary Arts, Diploma in Bakery & Patisserie along with a unique Hobby chef course which is for learners irrespective of age group, who want to acquire culinary skills as a hobby.
Datta elaborates, "Apart from hobby chef course, for getting admission in the other two courses, students are asked to go through two written and one PI round, which help us evaluating their general awareness, verbal and written skills". Often referred as a premier 'Chef Development Institute', IICA boast of direct partnerships with University College Birmingham, Edexcel UK and City and Guilds, U.K. and also holds the pride of being India's first World Association of Chefs' Societies(WACS) approved culinary institute and an accredited institute of the Indian Culinary Forum since 2005. Additionally, the institute has been appointed as Corporate Chef and Food consultants by the Whirlpool.
Owing to the institutes' continuous maintenance of academic excellence over the years, IICA has bagged distinctions such as Recognition of Quality Culinary Education by World Association of Chefs Societies and awarded "The Best Institute for Culinary Arts in India" by TIME research and India News.