Higher Education Review ›› Magazine ›› May-2018 ›› Special issue
International School of Management Studies: A Journey towards Innovation, Integrity and Inspiration
Author : HER Team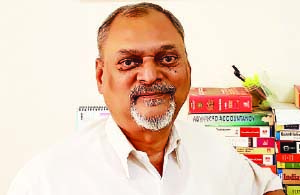 Dr. Nishikant Borge, Academic Head & Chief Mentor International School of Management Studies
The management education came into the forefront and began to spread like wildfire when top multi-national organizations started offering huge remuneration to the fresh-out-of-college students in the late 1970s. It came as a promise of a wider horizon, a larger perspective of the business world and greater career growth for students. However, due to lack of enough industry exposure and low standard of education in India, an optimum number of aspirants prefer to fly to abroad for pursuing an MBA degree. Saving students from the burden of student loan and all other hurdles of studying in a foreign country, International School of Management Studies (ISMS) was commenced offering international level MBA degree in the Pune city, which is also referred as the "Oxford of the East".
Dr. Nishikant Borge, Academic Head & Chief Mentor, ISMS says, "Pune is filled with many big, medium and small-scale industries which are immensely favorable for ISMS. Our students get numerous choices to engage in Summer Internship with organizations and area of their own inclination." Accredited duly by Edexcel, UK's largest awarding body and one of Pearson's leading brand name for academic and general qualifications, ISMS accepts the admission of students in five courses viz. MBA (International), PGP MBA (Triple Certification), MBA with Additional Certification of Strategic Leadership & Management (SLM), MBA in Agribusiness and BBA (International).
The students of ISMS are rendered substantial industrial training along with strengthening their knowledge in the basics of management education.
The institute abides by to a comprehensive and research-driven curriculum being affiliated to the University of Pune. "Our pedagogy is one-of-its-kind. The teaching approaches that are followed by our faculty members are chiefly practical-based," pinpoints Dr. Borge. Instead of taking the route of conventional examinations, the institute goes beyond it and conducts the final assessment depended on assignments that are rolled out to the students and are evaluated by evaluators from the UK.
The campus of ISMS intensifies the teaching-learning process by encompassing finest facilities like equipped classrooms, WI-FI, cafeteria, e-library, seminar hall, computer lab, sports spaces and so on.
A Win-Win Situation