Higher Education Review ›› Magazine ›› June-2018 issue
Kanchan Dulani, Principal, Sadhu Vaswani International School, Hyderabad
Author : HER Team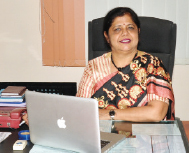 Kanchan Dulani , Principal Sadhu Vaswani International School, Hyderabad
Kanchan Dulani is a passionate individual who believes deeply in the right of every child to receive an effective and strong education along with values. An open-minded student-centric teacher, Kanchan earned her degree in Education 35 years ago. She has done her B.Sc, M.A (Economics) and B.Ed from Bhopal University (M.P). After her education, Kanchan worked as a teacher for 15 years and joined Sadhu Vaswani International School as a Primary Co-coordinator in the year 2011. In the next year, she was promoted to the post of Vice-Principal. On 31 March 2017, Kanchan achieved her dream of becoming the Principal of the Sadhu Vaswani International School. A mother and a wife, Kanchan is a lifelong learner who gives her hundred percent to the responsibilities she takes up. As a visionary leader, she enjoys working with and supporting others for exemplary student learning.
The Pragmatic Facilitator
In 2008, when Sadhu Vaswani International School (SVIS) started its operations in Hyderabad, the strength of students was only 72 with six teachers in the campus. Now a massive institution with 2973 students and over 255 teachers, SVIS has achieved School Excellence Awards for Top 500 Hundred School of India -2017-18 under three categories; Best Community & Collaborative, Happiness Quotient Index and Innovative Practices School -among Best CBSE Schools of Telangana. At the helm of its affairs is Kanchan Dulani, the principal who follows Sant Kabir's saying-"kaal kare so aaj kar, aaj kare so ab, pal mein parle hoyegi, bahuri karega kab, which translates roughly as, "Do tomorrow's work today, today's work now,if the moment is lost, how will the work be done?"
"For quality in life, quality in education is essential and a crucial link between the two is the teacher" -Kanchan Dulani
"For many people, their work is a means to an end. They work for a paycheck in order to live their lives. But, those called to educate have a true vocation. To those with whom I interact most during my day -the students and teachers– I am not an employee but a friend, a mentor and a guide," says Kanchan. According Kanchan, teaching must not merely be academic or abstract. It must not merely aim at stuffing the students with information acquired from dead books or a set of sterile moralities and superficial values. "True teaching should equip the students to cope adequately with life, with what lies ahead of them so that they may become worthy participants in the adventure of life," opines Kanchan.
Under the leadership of Kanchan, SVIS focuses on the holistic development of its students. The school offers more than 20 indoor and outdoor activities to the students in order to excel in various competencies. At SVIS, all the students have daily physical and sports activity of their choice on the field under the supervision of well-trained coaches. "Students are the heart of any institute and the heart has to function properly to keep the body healthy. I believe in complete holistic development of a child. For this, the yearly planning is done balancing the curricular and co-curricular activities," adds Kanchan.