Higher Education Review ›› Magazine ›› April-2018 ›› Special issue
Konsult Art and Design Academy: Preserving the Colours of Life
Author : HER Team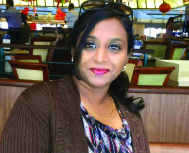 Shahina Ashraf, Founder Konsult Art and Design Academy
Holi, the festival of colors, is over. But, the hands of Shahina Ashraf are still immersed in the colors. Calling herself a 'Nature's Artist,' Shahina does impromptu paintings on the spot whenever she travels to places and most of her paintings are inspired by nature. She says, "I would carry all my art materials wherever I am traveling to." Now, Shahina is one of the young entrepreneurs in the technology thriving city of Bangalore. But, what she has established is not a 'me-too' tech start-up, but an art institute that would nurture art and make creative citizens.
"The art education sector is predominantly unorganized. We have a few artists teaching from home or a few standalone art classes without a properly structured system. Konsult Art and Design Academy imparts international quality art education in a structured manner," shares Shahina. Nestled between the Bangalore's busiest Outer Ring Road and the mighty Bellandur Lake, the interiors of Konsult Art and Design Academy is a reflection of Shahina's artistic impressions. Filled with the artworks of students and teachers, the white walls of the academy are hardly visible. These paintings are not just wall decors, but an inspiration for any viewers to pick up a brush and try something on the canvas. No wonder, Konsult Art and Design Academy has one of most vibrant learners in the country in term of age - it starts from 3 and goes beyond 60.
Through a unique franchise system, Konsult has expanded its footprints to major cities including Mumbai, Raipur, Coimbatore, Chandigarh, and Ludhiana.
"We are unique in the sense that we cater to all age groups. We do not work in a rigid environment. Our timings and schedules are flexible and customized as per student's requirement. We emphasize on practical approach and hands-on training," claims Shahina. For learners who want to take up art as a career, Konsult Art and Design Academy conducts diploma programmes in Fine Arts and Art Teaching, apart from Certificate Programmes and Short-term Courses. The classrooms of Konsult that are designed like an art gallery also welcome kids and adults who have taken up painting as a hobby. "Our vision is to excel as a vibrant academy and to nurture art, creative citizens and bringing out the best form of talent and to be the most desired art institution. Our mission is to bring art to the fore through inspired learning," pinpoints Shahina.
Konsult Art and Design Academy has developed their own study materials, which are not just graphics. Shahina says, "The study material is created by a team of artist and curated by a Board of Senior Artist. That is our USP." At Konsult Art and Design Academy, the teachers are primarily artists and art qualified. "They breathe in and breathe out art and are very passionate about art. We teach all forms of art ranging from our own traditional paintings to western grandmasters," adds Shahina. The academy's own Art Teacher Training Programme also helps to nurture future teachers.