Higher Education Review ›› Magazine ›› July-2018 issue
Krystal School of Excellence: Celebrating the Love for Food and Hospitality
Author : HER Team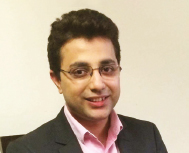 Chowdhry Md. Talib, Managing Partner Krystal School of Excellence
People in the city of joy, Kolkata, cannot live without their favourite Bengali cuisines and festivals. A Bengali phrase, "Baro Mashe Tero Parbon," meaning '13 festivals in 12 months,' aptly reveals Kolkata's culture. Couple of years ago, Nat Geo People channel was in town to explore the local delicacies. One of the few restaurants featured in that episode was Tero Parbon, which was conceptualised by Krystal Group to provide a culturally significant Bengali experience to its diners. Indeed, since the opening of their oldest restaurant, Krystal Chopstick in 1994, the exciting journey of Krystal Group in the world of food and hospitality has given Kolkata some of its most happening entertainment venues and innovative culinary experience. Today, with four restaurants, a luxurious guesthouse property in the heart of the city, a much sought-after events company and a beautiful countryside resort, the Krystal Group aces the list of hospitality biggies in Kolkata.
KSE's effort to build a strong network with the reputed organisations in the hospitality sector in a short span of time is commendable
However, Krystal Group's special ingredients for success are not a secret anymore. The group has established one-of-the-kind Hotel Management Institute named Krystal School of Excellence (KSE), where the management strives to provide the students with an education in hospitality that will teach the hospitality aspirant everything books alone cannot. "At KSE, apart from classroom education, we provide them live training, as we have Kolkata's biggest hospitality training center, which comprises of four Restaurants, one hotel, one event and catering company and one resort. Students get hands on experience and develop confidence," opines Chowdhry Md. Talib, Managing Partner, Krystal School of Excellence (KSE).
With sheer determination to provide quality education in the field of hospitality and tourism, KSE provides their students with well-ventilated and spacious classrooms, seminar halls, well-equipped training kitchens, training bar and restaurants and so on. The infrastructural facilities of the institute prepare the students to get the practical know-how of the industry. "Our motto is to train the students in a manner where they will be capable to challenge the industry and assimilate Quality Management Concepts. We are nurturing the skills and proficiency in the students to bring about holistic development that helps them to grab lead positions in the hospitality industry globally," claims Talib.
The hospitality education sector has evolved over the years and turned into a distinct department with a wide range of courses offering to the students who aspire to become hospitality professionals. KSE offers two professional courses like Excellence in Hospitality for 1 year and International Hotel Management and Tourism for 3 years along with additional courses on baking, wine and cheese and many more. "As we are one of the emerging hospitality and tourism institue in eastern India, we have fine-tuned our curriculum with the changing dynamics of the industry," says Talib. KSE ensures that their curriculum is on par with the industry demands and keeps it updated every year. Talib adds, "Here, we do not stick to classroom teaching only. Our course comprises on only 40 percent theory and 60 percent practical sessions. Through our practical workshops and assignments, our focus of learning is always on giving students the real-life knowledge that will help them secure a head-start in their profession and be a success in their chosen career".