Higher Education Review ›› Magazine ›› January-2018 issue
M. S. Ramaiah College of Arts, Science and Commerce: Where the Journey of Transformation Begins
Author : Sarath Shyam, Managing Editor, The Higher Education Review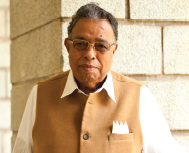 Dr. M. R. Jayaram, Chairman M. S. Ramaiah College of Arts, Science and Commerce
In 2011, when Pushpanjali took her first seminar, she was in her first semester of BA (Journalism/Psychology/Optional English) at Ramaiah College of Arts, Science and Commerce, Bangalore. A team of experts from a prominent newspaper in the city had come to her campus as a part of the institute's regular industry-connect programmes. On the stage, in front of the professionals, professors and pupils, Pushpanjali lost all the pluck. The fear of public speaking eclipsed her preparations. Her mind went blank. She stammered and faltered. In the end, she left the stage, head down, without being able to impress the crowd.
As an epitome of excellence, Ramaiah College keeps introducing several technological advances, taking initiatives to be on par with the progression of the industry.
A few years after her graduation from Ramaiah College, Pushpanjali was again on the stage. This time, she was in the shoes of a school counsellor, taking another seminar in front of 300 teachers. But, her mind did not go blank and she did not stammer. She was confident and clear. In the end, she left the stage with a proud smile, impressing the crowd with the confidence of a young woman. Indeed, that is why Ramaiah College has been one of the favorite colleges for students across the country. This temple of learning induces confidence in each and every student they get and the time a student spends in the campus of Ramaiah College is transformational.
Now, Pushpanjali has taken a break from her career. She plans to pursue her M. Phil in Clinical Psychology and takes up freelance writing jobs, as she is also a trained journalist. Recollecting those good old memories of her college life, Pushpanjali says, "Ramaiah College has been an absolute game-changer for many students. The teachers will push everyone to their limits and the exposure they give you to interact with people from the industry will transform you as a completely different person. Now, I am much more confident, as I understand my life goals."
Founded in 1994 by Late Dr. M.S. Ramaiah, a great philanthropist, the institute is now under Gokula Education Foundation, which is one of the most renowned educational Foundations in Bangalore, with more than 17 institutions. "We at Ramaiah College strive to achieve our mission by keeping up to date with the trends and developments required in the field of study, so as to be on par with the standards demanded in today's corporate world. We firmly believe in providing a conducive atmosphere for students by constantly improving our infrastructure and engaging in inter-departmental schemes and ideas for development," says Dr. A. Nagarathna, Principal, Ramaiah College of Arts, Science and Commerce.