Higher Education Review ›› Magazine ›› February-2018 issue
Manubhai Patel Dental College: Where Practice and Learning Go Hand in Hand
Author : HER Team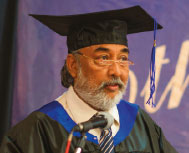 Dr. Rajendra Singh Rathod, Dean and Chairman Manubhai Patel Dental College
The 6.21-acre campus of Manubhai Patel Dental College (MPDC) in Baroda, which has Dental College, SSR General Hospital and Hostels for boys and girls, is always a busy place. Every day, the hospital sees around 400 – 450 patients, which in turn helps the students of the MPDC in getting high clinical exposure. With such good flow of patients, experienced and supportive faculties, MPDC is now providing the best learning experience of highest value to make broadly educated and humanistic dentists. "We started operations in 2000 as the first private Dental College in the state of Gujarat. With an objective of eradication of oral diseases globally, we have always provided the optimum facilities for our students," states Dr. Rajendra Singh Rathod, Dean and Chairman, MPDC.
MPDC has an international MoU with University of Malaya Dental School for research, student and teachers exchange.
Now in the 18th year, MPDC is imparting courses in Bachelor of Dental Surgery (BDS), the primary undergraduate degree course of dentistry with an intake of 40 per year. For those who wish to study further, the institute offers 3-year Master of Dental Surgery (MDS) in five specialties namely Orthodontics, Conservative Dentistry & Endodontics, Prosthodontics and Crown & Bridge, Periodontology and Oral and Maxillofacial Pathology. To add on, the institute also has Diploma in Dental Mechanics (DDM), a 2-year Para dental program to train dental technicians supporting dental lab work with an intake of 15 per year. "All our programmes are unique. Although, the Dental Council of India controls the curriculum and the scope of the examination, we have broad powers in managing the delivery of the curriculum and practical training. We have an Academic Council consisting of the Dean and senior faculty, who control academic policy and related matters of the college," explains Dr. Rathod.
MPDC is considered the best private dental college in Gujarat mainly due to the high impact of its graduating students in the society who are academically sound, confident and clinically brilliant due to the exposure of excellent faculty, advanced dental equipment, high research activity and tremendous clinical patient flow. "The well equipped latest electrical dental units, equipments and phantom heads help in complete practical training for students. We have assigned a senior faculty as a mentor for each student and we ensure that they everyone gets an apt guidance. Students are provided with all relevant materials and instruments within the clinics," pinpoints Dr. Rathod.