Higher Education Review ›› Magazine ›› April-2018 ›› Special issue
New Shores International College: Shaping the Careers of Tomorrow's Global Leaders
Author : HER Team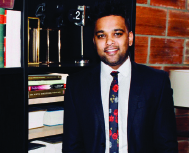 Prof. Shashidhar Chiron, Founder Chairman New Shores International College
New Shores International College (NSIC), a name that has become synonym with the world-class learning, was founded to bring a fresh and meaningful approach to education through inquiry-based – transdisciplinary learning. The colleges believe in catalyzing the process of cross-disciplinary learning and transformation over acquiring mere facts and reproducing. Located in at the heart of the garden city of Bangalore with internationally certified green building in the campus, NSIC prides with a pool of creative, intellectual and passionate educators. "I believe that a college is an ecosystem where young minds can discover, experiment, and learn the ideas that are shaping the world while developing a fearless and free mind to question the same ideas," says Prof. Shashidhar Chiron, Founder Chairman, New Shores Educational Institutions.
Prof. Shashidhar Chiron is the youngest entrepreneur to start and scale up a fully accredited college in India. World Economic Forum and the UN have recognized his service and achievement with awards. The college has integrated curriculum that transcends learning beyond a specific discipline, this is coupled with cutting-edge technology both inside and outside the classroom to offer the students access to the finest education.
The leadership of the NSIC leaves no stone unturned to associate and collaborate with different organizations extending the students with ample industry-oriented practices and experiences.
Giving more accessibility to students, parents, and educators, the college has a host of tech enablements such as Knowledge Channel and LMS, which cumulatively allow the members of the college to review and access class notes, performance metrics, grades, assignments, group work and all other academic-related material in their own time. All the classrooms are equipped with smart boards, audio-visual learning aids, computer systems, rendering the students a conducive and apt environment to study. "We have also introduced Business lab and Robotics lab along with windows computer lab as we want our students to learn the latest technologies and their application," states Prof. Khyati Gohil, Assistant Professor, New Shores International College.
Honing the Skills