Higher Education Review ›› Magazine ›› January-2015 issue
Opportunity and Gaps in Online Recruitment Industry
Author : Ajay Kolla, CEO and Founder, Wisdom Jobs.com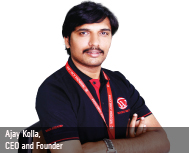 The internet revolution has metamorphosed the order of things, replacing traditional methods with modern ones. It has penetrated our lives to such an extent that its impact is palpable in almost every industry including the sphere of talent recruitment. The emergent online ones to filter potential candidates who perfectly fit job requirements of the hiring company have replaced traditional recruitment methods. The erstwhile cumbersome task of hunting for the right candidate and business opportunities has now become cheaper, quicker and hurdle-free. Without having to face the hassles of cold calling or depending on candidate networking, recruiters can breeze through plenty of CVs and resumes online and finally take the decision of zeroing in on the appropriate ones.

However, each coin has two sides. Similarly, the online recruitment industry poses some challenges for the recruiting organization that may hamper the hiring goals of the company at some point or another. Frequently on job portals, recruiters fail in finding deserving candidates who perfectly meet the job requirements. Sometimes, companies do not get genuine responses and are not able to reach those candidates who are actually searching for a job and are ideal for the vacant position.

Another issue is that job seekers do not update their profiles on a regular basis on job portals. What is worse is they often list fake qualifications and skills to attract recruiters. A recent survey made an interesting observation regarding bogus resumes and CVs on job portals. It revealed that 80 percent of resumes on online platforms include at least a few fabricated degrees and certificates and 20 percent of resumes are not genuine. Also, 30 percent of resumes project made-up employment dates and 40 percent of them present fake CTC quotes. Often, when fresh graduates do not get a job for a long time since graduation, they get instigated to show fake experience on their CVs. They present exaggerated and unrelated skills on their CV in order to make it look appealing.

Leading online job portals, however, have a way to counteract this problem. They offer various online skill evaluation tools to examine the proficiencies of job seekers and rate them accordingly. The skill-rate is then presented to the employer. This assists candidates to showcase their abilities, prove their merit and not be overshadowed by other job applicants who have actually fabricated many of their credentials. It helps recruiters to quickly screen the desired candidates with the assurance that the claims made by them are genuine. From the employers' point of view, skill evaluation tools make it easy for them to shortlist candidates in accordance with the parameters of location, skill, salary range and keywords, lessening the cost incurred and time invested in the recruitment process.

Carefully engineered automated tools on top job portals elevate the standard of online recruitment, making it qualitative and wallet-friendly. These tools back the whole recruitment process from job posting, candidate screening and selection to placement and billing. Today, various job portals and recruitment agencies have adopted groundbreaking concepts like the applicant-tracking system to track job postings, profiles, job applications and interviews. The system is well equipped with Artificial Intelligence tools and Natural Language Processing devices that are efficient in providing companies with pertinent resumes in conjunction with job descriptions. Also, some companies have adopted the application system through which candidates can directly post their profiles and save them on the company's website to be in the eyes of the organization in case of future openings.