Higher Education Review ›› Magazine ›› April-2018 ›› Special issue
Presidency School Bangalore South: Educating Beyond Academic Grades
Author : HER Team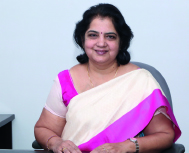 J. Bhuvaneswari, Principal Presidency School Bangalore South
Holding an estimable legacy of 41 years, Presidency Group of Institutions (PGI) co-founded by the renowned educationist and philanthropist, Dr. Nissar Ahmed, is a well-known name in the educational arena. With seven schools, 3 colleges and a university under its umbrella, PGI ensures a bright future for thousands of students every year. Among the premier institutes under PGI, Presidency School Bangalore South (PSBS) is one of the most sought-after schools in Bangalore. Incepted in 2006 with around 350 students and 25 staff members, PSBS has grown into a massive entity in the school education sector with 1900 students and 140 faculty members including the administration wing, owing to the high-quality education that the school has been exhibiting over the years.
With the motto of providing a student-friendly learning environment and promoting innovative learning practices that draw out the best in every student, PSBS assures to mold each student" personality understanding their unique capabilities. "Change is constant and to deal with this, we render our students a lifelong learning that will eventually help them to find fulfillment and satisfaction in life," says J. Bhuvaneswari, Director/Principal, PSBS. At PSBS, students are pushed and motivated to keep a balance in curricular and co-curricular activities, comprehending the necessity of overall growth.
Offering Kindergarten to Senior Secondary education, PSBS has designed different teaching methodologies for every level.
Offering Kindergarten to Senior Secondary education, the school has designed different teaching methodologies for every level. In the academic year of 2017-2018, the school has been conferred two awards viz. Value for Money and Individual Attention to students by the Education Today. "Parents hands over their children to us with utmost trust, in the hope of seeing them acquire wholesome education. Comprehending this, we accord equal emphasis on class activities and outdoor activities," shares Bhuvaneswari.
The campus of PSBS is spread over two acres of land, situated off Bannerghatta Road with an aesthetic looking building that is loaded with state-of-the-art facilities. Spacious digital classrooms, well-equipped laboratories, audio-video studios, playground, library and so on are some of the facilities. The management of the school takes safety as the highest priority, given which round-the-clock security supervision is enforced in and around the campus, placing surveillance and CCTV cameras at strategic locations.
Preparing for Life