Higher Education Review ›› Magazine ›› June-2018 issue
Sakshi Sharma, Principal, Arwachin Public School, Gaziabad
Author : HER Team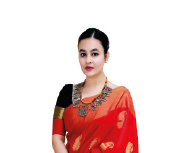 Sakshi Sharma, Principal Arwachin Public School, Gaziabad
Sakshi Sharma is recognized widely for her noble works and has been conferred varied awards viz. two Leadership Awards, one International Product and Service Award, Bharat Vikas Parishad Award and Rashtriya Shikshak Saman Award. Her association with different NGO's has gained her a status of hardworking and enthusiastic leader. Today more than 70 children receive educational assistance from her and this number is estimated to manifold multiply every annum. She ardently aspires to establish a school for the underprivileged children so that they can enjoy equal opportunities as the other children of the society. Given her kindness towards the children who are unable to receive an education because of lack of money, Sakshi has also founded the Sriniwas foundation with the motto of providing free study material and proper education.
Working for a Noble Cause
Founded by Late Sh. Shriniwas Sharma, Arwachin Public School (APS) aims to prepare students for life-long learning and for ethical, productive participation in democratic society and the global community. The school is growing by leaps and bounds under the leadership of Sakshi Sharma, the Principal of APS. A benevolent and exemplary personality in the field of education, Sakshi is a passionate social worker and a dedicated teacher. She is a believer in bringing a change in the society.
"An ideal teacher is the one who makes an exceptional student and an exceptional student reflects his teacher" -Sakshi Sharma
Running successfully a chain of schools (Arwachin Group of Schools and Ubert Learning Pre-school) in the Delhi NCR region, Sakshi always pushes herself to learn more and attain as much knowledge as she can from her surroundings. "I believe that students should be able to study and grow in a healthy environment. Hence, we at APS help each student for multifaceted development by rendering them a positive atmosphere to learn," opines Sakshi. Based in the 'Gateway of Uttar Pradesh', Ghaziabad, the campus of the APS is placed in Vasundhara town, encompassing avant- grade facilities like Wi-Fi, swimming pool, playground, laboratories, smart classrooms, dining hall, learning resource center, art studio and so on.
Making the optimum use of technology to teach the students, APS has adopted all the modern learning methodologies. "Our teachers are encouraged to teach in the most innovative manner. They often use oriental modular learning system wherein students are shown various e-modules, comprehending the strength of learning from examples," claims Sakshi. The students at APS are engaged in several e-activities, mock examinations, and assignments, which are regularly updated on the official school website.