Higher Education Review ›› Magazine ›› June-2018 issue
Shikha Sharma, Principal, Indus Valley Public School, Noida
Author : HER Team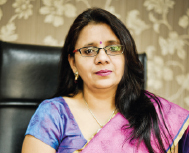 Shikha Sharma , Principal Indus Valley Public School, Noida
Shikha Sharma is a visionary educator who is serving in the education field for the last 20 years. An optimistic and a great inspiration to her students, Sharma advocates a specific aim of fostering observation, inculcating confidence, values, tolerance and above all shape up the character of the students. Sharma joined Indus Valley Public School (IVPS) in the year 2009 and in a short span of time through her unparallel efforts has turned IVPS into one of the top-ranked schools in the country. Sharma was awarded "The Best District Principal Award" in acknowledgement of her vision, leadership qualities and academic initiatives on account of which the students of IVPS exhibited outstanding performance at District level in Uttar Pradesh and Uttarakhand State in SOF Cyber, Science, Mathematics and English Olympiad exams for three consecutive years-2014-15, 15-16 & 16-17.
Achieving the Impossible with Immaculate Passion
With the hope of influencing the young mind and heart, Shikha Sharma believes in providing world-class opportunities to her students for showcasing their skills. This idea of changing one's thought by inculcating values in them came from Sharma's own experience. The way her English and Chemistry teachers used to teach, left a lifelong impression on her life, leaving her motivated to be an ideal teacher. Today, living up to the high standards she had set for her career, Sharma as the Principal at IVPS, is successfully leading the school towards progression.
"Whenever I can bring a change in any student's life, it becomes a great achievement for me." - Shikha Sharma
Despite the complicated challenges a teacher has to confront, every day Sharma comes to her workplace with full energy inspired by a conviction that through education she can move individuals and society to a more promising future. "I always want my students to accomplish something big in their life. From removing stage phobia to creating social awareness, we consider everything which will make them an able citizen of tomorrow," opines Sharma. The mantra that IVPS abides by is to teach all students empathy, which is a much-needed quality in today's world. They are trained to raise their voice against injustice and celebrate their festivals with needy too.