Higher Education Review ›› Magazine ›› June-2018 ›› Special issue
Srishti Robotics Technologies: Creating an Innovative Path for Tech Aspirants
Author : HER Team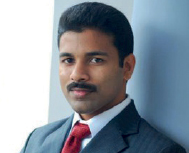 Sunil Paul , CEO Srishti Robotics Technologies
A postgraduate gold medalist from the prestigious SRM University, Sunil Paul started his career as a professor in an engineering college based in Kerala. Paul was not a regular teacher who would emphasis on imparting bookish knowledge. His classes were not mere lectures, but an opportunity for the students to understand the concept and improve the creativity. However, Paul's one-man-army effort to make ripples in the monotonous way of teaching did not find success. Paul recounts, "I understood that I miserably failed because the university syllabus is not designed for that." Later, Paul who was specialized in Robotic during his post-graduation took the plunge of conducting additional workshops and training for the students.
"The feedback received from the students was overwhelming. They had started participating in state and national level competitions and became more confident post the training sessions," shares Paul. After two years of research and experiments, Paul along with two of his students Shine Sreedhar and Vipin Mathew initiated Srishti Robotics Technologies Pvt Ltd in the year 2014. The institute is now partnered with more than 75 organizations and institutions like RoboRave, Kerala Police Cyberdome, PSG College of Technology Coimbatore, Tomson Electronics, Vimal Jyothi Engineering College, HCET, MITS, SCMS, RSET, RCJPS and the list hardly gets an end.
Four years down the lane, today more than 10,000 students of Srishti have attended the workshops and subsequently many of them got placed in top-notch companies with a salary package above 15 lakh.
Based in Kochi, the institute comprises of vibrant engineers as its trainers who conduct workshops on Industrial Robotics & Automation, IOT, Wireless Robotics, Swarm Robotics, Machine Learning, Android, Data Analytics and so on. The training programmes range from one day to six months PG Diploma programmes offering one-week industrial training to students who opt for courses on embedded system, robotics, Industrial robotics, and Engine overhauling and off-road vehicles. "We believe in experiential learning. So, instead of teaching all the concepts by the trainer, we present students with real-time problems and let them develop a new solution," pinpoints Paul.
The students are made versed in basics of electronics, electrical, computer science and mechanical engineering to meet the required engineering skills. The institute has a robust R&D and a manufacturing unit to keep a constant check on intensifying the syllabus according to the latest demands of the industry. Paul opines, "In all our workshops, at least one person from the product development team of the Institute handles sessions, which provides the students a better practical learning experience, as this kind of trainer can explain the difference between understanding a concept and implementing it as a product."