Higher Education Review ›› Magazine ›› April-2018 ›› Special issue
St. Aloysius Degree College: Administering Affordable Education to the Millennial
Author : HER Team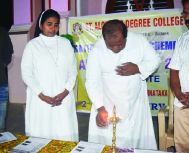 Sr. Philomena Cardoza, Principal St. Aloysius Degree College
Access to education beyond higher secondary remains a dream for many in India. The common barrier that keeps the students deprived of obtaining the college education is often their financial incapability. Seeking to render an affordable and quality education with a preferential option for the poor so that they can be self-sufficient, the Archdiocese of Bangalore laid the bricks of St. Aloysius Degree College in 2008. Right from its establishment, the college has been able to transform many lives through developing them into independent, mature and responsible citizens. At St. Aloysius Degree College, from academic mentoring to counseling support, students are guided in every step.
"A college education is an extraordinarily profitable investment. This does not only enable one to grab a job, but also inculcates values and life lessons that are invaluable. We educate our students in every such aspect that would help them in future to confront the challenges of life," shares Sr. Philomena Cardoza, Principal, St. Aloysius Degree College. Affiliated to Bangalore University, the college welcomes students who have secured above 40 percent in their pre-university examination and encourages students to seek scholarships from Government, voluntary-agencies and student loans from the bank, who cannot afford to pay the admission fees.
Ideally located three kilometers away from the Cantonment railway station and seven kilometers from the Majestic bus stand, the campus of St. Aloysius is a perfect place for those who want to study amidst a peaceful environment, yet not so far from the city
Regarded as one of the perks of studying at St. Aloysius is the college timing where students are allowed to come at 8.30 am and leave by 2.30 pm, providing them the opportunity to take up a part-time job or work as a full-time in a 2nd shift.
"Effective learning cannot be weighed by counting hours. It can happen in a short time if the teaching approaches are right and teachers are expert in transferring the knowledge to the students," opines principal of the college. Acknowledging the curriculum of Bangalore University, the college offers Bachelors programme in subjects like Commerce, Business Management, Computer Application, Social Work, English, Journalism and Political Science. The college offers M.COM and MSW for aspiring students for Higher education.