Higher Education Review ›› Magazine ›› April-2018 ›› Special issue
St. Claret College: Stimulating Practical Learning in Higher Education
Author : HER Team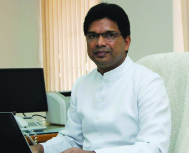 Dr. Sabu George, Principal St. Claret College
Established in 2005 by Claretian Missionaries, an international society of Catholic Priests and Brothers, St. Claret College provides quality and holistic education to the student community of the northern belt of Bangalore city. Indeed, St. Claret College is an extension service by the Claretian Society towards upliftment of higher education, as they are already running a school and PU college addressing the primary and secondary educational need of the locality. Now a front-runner in imparting cutting-edge education, the college hosts students from different parts of India and abroad.
The college is affiliated to the Bangalore University and follows the curriculum and programmes prescribed and curated according to the University norms. "Apart from the set curriculum, putting additional efforts, we regularly conduct specialization as well as add-on programmes in association with reputed organizations and keep our students abreast with the industry demanded skills," shares Dr. Sabu George, Principal, St. Claret College. Owing to the long existence of the Claretian Missionaries Society in the educational domain, the college relishes a healthy relationship with the industry. Having tie-ups and MoUs with organizations like Dell EMC, Computer Society of India, Bradford Aviation, Amazon Web Services, ISDA and so on, the students of St. Claret College earn solid industrial exposure during their course period.
At St. Claret College, teachers act more like mentors and render the students with a strong knowledge base
"Our students are encouraged to go for regular industrial visits along with gaining insights from expert talks given by industry professionals on the campus," says Dr. George. There are seven departments in the college viz. Commerce, Science, Management, Computer Science, Social Work, Travel & Tourism, and Humanities where the students are offered varied long-term and short-term courses classified into PG, UG, Diploma and PG Diploma level. "We are committed to including more programs shortly after having a thorough discussion with the industry experts so as to make our student's industry ready," pinpoints Dr. George. The flexibility of choosing a course from the wide range of options available assists the students to pick subject according to their desire and interest.
Innovative Learning Methodologies