Higher Education Review ›› Magazine ›› June-2018 ›› Special issue
Stanley College of Engineering & Technology for Women: Carving up a Promising Path for Women Achievers
Author : HER Team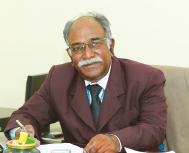 Dr. Satya Prasad Lanka, Principal Stanley College of Engineering & Technology for Women
Demolishing stereotype perceptions, top-notch companies are now heading towards recruiting more number of women employees compared to men. This positivity can be conferred to the several studies, which have shown and highlighted that having women in workplaces translates into increased revenues and profitability as they can bring in different perspectives and ideas on the table. In fact, according to LinkedIn's latest report, diversity hiring is one of the top priorities among Indian recruiters today. Fulfilling the need for growing number of women in the workforce, Stanley College of Engineering & Technology for Women (SCETW), the only Women's Engineering College in the Telangana state affiliated to Osmania University, is gifting the industry with proficient and skilled women engineers.
"Methodist Church in India is dedicated towards the upliftment of the educational standard for more than a century and we are proud to be a part of this organization. The proactive management led by the young and dynamic correspondent Mr. K. Krishna Rao compel and assist us in carrying forward the vision of the institute's of matching with international standard education with utmost passion," shares Dr. Satya Prasad Lanka, Principal, SCETW. Holding the motto of empowering women through professional education integrated with values and character and make an impact in the world, the institute has earned several awards and accolades over the years given by different organization for its excellence. Mr. Rao proudly says, "Stanley has been adjudged the 8th and 9th Rank in the year 2017 in the state by the Times Engineering Institute Ranking Survey and National Surveys have ranked Stanley 96 and 127 position for Data Quest (2016) and The Week (2016) respectively".
The students coming to SCETW not only get a satisfactory education but also boosted to take part in self-defense programmes enabling them to be self-reliant
The students coming to SCETW not only get a satisfactory education but also boosted to take part in self-defense programmes enabling them to be self-reliant. Located in a sprawling 6- acre area at Abids, Hyderabad, the campus of SCETW is placed right amidst the heart of the city embracing exceptional security facilities for the students. "Every student enters the college with a lot of hopes and aspirations and we are aware of it. We have incorporated all the facilities under one roof that a girl student generally anticipates for," opines Dr. Lanka. From numerous CCTV cameras to 24x7 surveillance and comfortable hostels to academic and extracurricular facilities, the institute has taken additional caution while designing the infrastructure of the campus.
The institute has four engineering departments accredited by NBA in the campus viz. Electrical & Electronics Engineering (EEE), Computer Science & Engineering (CSE), Electronics & Communication Engineering (ECE) and Information Technology (IT) offering UG programmes. "We also offer PG programmes M.Tech in CSE, Software Engineering, Digital Systems and Embedded Systems along with MBA course, rendering the students the opportunities to complete their higher education at SCETW itself," pinpoints Dr. Lanka.