Higher Education Review ›› Magazine ›› January-2018 issue
The Delhi School of Communication: Redesigning the Landscape of Media Education
Author : HER Team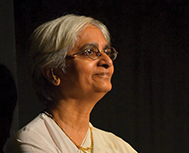 Prof. Ramola Kumar, Dean The Delhi School of Communication
Media studies are not only about reading newspapers or about watching films. It is also about working closely with the industry to acquire the required skills.Established by a group of professionals from the industry and academics, The Delhi School of Communication, which was initiated in 1995, is solely driven to generate professionals who are practically sound along with theoretical awareness. Prof. Ramola Kumar, Dean, the Delhi School of Communication says, "Since its inception, the institution has evolved into an epitome of excellence through collective and constant efforts of the management, students, and faculty members. Each member of the institution is equally enthusiastic to touch the peak of success."
The pedagogy of the DSC is extremely commendable which includes continuous awards and scholarship for academic and non- academic achievements.
Although the flagship programme of DSC is the Post Graduate Diploma Programme in Communication (PGDPC), the institute offers diverse short-term courses to the students. Under the PG programme, DSC provides the students with the flexibility of choosing from three specializations; Advertising & Entertainment Management, Journalism & Public Relations and Marketing & Digital.
Taking a step forward to boost practical learning, DSC has also partnered officially with Media & Entertainment Skill Council of India (MESC), which enables the institution to render training to students in four short-term programmes, namely- Programme in Advertising & Marketing ,Programme in Media Marketing, Programme in Script Writing and Programme in Production. "Whether it is a long-term or a short-term programme, undergoing some amount of internship is compulsory for every student, as it will help them learn the concepts better while applying them practically," pinpoints Prof. Kumar.
The internship programme designed for the post-graduate student of DSC drives the attention of students with media studies bent around the country. The students are urged to go through six months of internship, which is classified into parts during the entire semester. Prof. Kumar explains, "In the first semester, students are sent for one-month internship and in the second semester they are sent for another three months internship. Altogether it is six months of experience, which students gain from interning at different organization." DSC takes the responsibility of placing students for internships in India's leading agencies.