Higher Education Review ›› Magazine ›› December-2016 ›› Special issue
Training and Talent Development for Engineering Students
Author : Prof. Gurucharan Singh, Dean – Corporate Affairs, HR & Training, BGS Group of Technical Institutions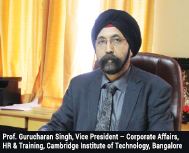 Business and economy today, given the increasing competition and globalization, is going through immense changes and transformations. The recognition of talent as a source of competitive advantage is fundamental and Human Resources Development (HRD) is one of the most talked about subjects.

Focusing on engineering study, India produces a large number of engineering graduates every year, but according to various reports and analysis, only 25% of the engineering graduates are found employable. Skill shortage amongst the engineering graduates remains one of the major constraints to the continued growth of the Indian economy. This shortage can be taken care of by bringing about the necessary changes in the present system of knowledge transfer with an elaborate training, talent development and skill enhancement mechanism in place right from the first day the students enter the engineering institution.

Focusing on training and skill development, it is essential that an appropriate training policy is in place. This policy should represent the commitment of top management to training and development and involve rules and procedures relating to training activity. Identifying the training needs of an institution is the first step in the systematic training process. Training needs can be identified clearly through Institutional Analysis, Industry need analysis, operational analysis and manpower analysis. After deciding the training needs, the logical steps in the training process are to set training and development objectives in concrete terms. After finalizing the objectives of training, the next step is to design the programs followed by proper implementation and evaluation of the same.

Lastly, it is to be mentioned that the training programs should be elaborate and systematic and should be directly related to the specific training needs of the organization or the institution. Training should act as a tool for self-learning and self-development. Training programs should be regularly monitored, evaluated, reviewed and updated periodically. It is not out of place to mention here that separate administrative machinery (Human Resource Development Department) for the design, implementation and evaluation of the training program is highly desirable. This ensures disciplined conduct of training so that the same is effective and result oriented.

Finally to conclude, it is important to note that current trends and technologies being used and expected by corporate world have to be taken into consideration before setting up the academic and training calendars which prepares the students towards industry readiness. Technical universities must begin to engage comprehensively and actively with the industry and formulate updated training and skill enhancement programs in order to remain competitive in a diverse market.