Higher Education Review ›› Magazine ›› July-2018 issue
V.M. Salgaocar Institute of International Hospitality Education: Giving the Key to International Networking
Author : HER Team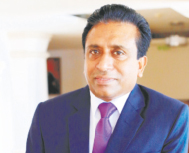 Prof. Irfan Mirza, Director and Principal V.M. Salgaocar Institute of International Hospitality Education
Holding a reputation of over 5 decades in the business arena, V.M. Salgaocar Group, which was commenced by late Vasudev Salgaocar is headquartered in Goa besides having offices in other major cities of India. With a vision to render international standard hospitality management education to the students and create world-class leaders, the group established V.M. Salgaocar Institute of International Hospitality Education (VMSIIHE). "Along with hospitality education, we will emphasize on personality development, professional attitude and leadership of students, which will enable them to be a good leader in their chosen profession. Our well-qualified team will assist and guide students on all aspects of their progress. We will ensure that our students learn with fun and gain skills, knowledge and attitude to achieve their goals, and be successful in their chosen career," opines Prof. Irfan Mirza, Director and Principal, V. M. Salgaocar Institute of International Hospitality Education.
As the group remarkably owns and operates Goa Marriott Resort & Spa, an upscale 180-room 5-star Resort Hotel with award-winning hospitality, the institute enjoys rich industrial collaborations and associations that strongly assist the students in gaining sound practical experiences. One of the many perks of studying at VMSIIHE is getting trained by the professionals themselves and also being placed at hotels of international repute owned by the group.
Affiliated to Goa University, the institute has a Student Exchange program with Turismo de Portugal- Ministry of Tourism, Portugal and a strategic tie-up with Business & Hotel Management School (BHMS) in Switzerland wherein VMSIIHE Students have an opportunity to study Culinary / Hospitality
Programme at BHMS, Switzerland. "Our students visit Portugal for one month summer vacation training in "Gastronomy & Wines" and similarly students from Portugal visit our campus for training in "Regional cuisine"," says Martha Rebello, Compliance Officer/ Academic Co-ordinator, VMSIIHE. Further, the MoU with Dublin Institute of Technology (DIT) supports the institute in terms of the curriculum, which is partly drawn up in accordance with DIT.
Students at VMSIIHE are offered 3-year B.Sc. International Hospitality Management program following the curriculum of Goa University under the able guidance of experienced faculty with international expertise and industry exposure. Extending an opportunity to add credentials in students' resume, the institute also conducts certificate courses in Culinary Arts, Guest Service Operations, Restaurant & Beverage Operations and Housekeeping Operations. "We make sure the three years that the students spend in our campus turn out to be productive and helpful for their career. The entire programme is exclusively designed giving emphasis on student's hands-on training," shares Martha. The education model that the faculty members at VMSIIHE abide by is a combination of instilling theoretical nuances along with focusing on practical applications.
One of the many perks of studying at VMSIIHE is getting trained by the professionals themselves and also being placed at hotels of international repute owned by the group