Higher Education Review ›› Magazine ›› March-2018 issue
World Wide Aviation: Producing Unparalleled Opportunities in the Aviation Sector
Author : HER Team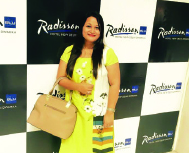 Rajni Joshi, Director World Wide Aviation
According to International Air Transport Association (IATA), India will overtake the UK to become the third largest air passenger market by 2025. Training providers in the Aviation Industry are expected to cater efficiently to the growing demand of the skilled personnel. Ensuring and meeting the competencies of the future aviation manpower, the World Wide Aviation (WWA) was established in the administrative capital city of the country, New Delhi. The institute stands as one of the leading aviation training providers, specializing in professional and private flight programs.
The factor that assists the WWA to stand out among the other aviation training institutes is its guarantee of 100 percent placement.
"Initiated with merely 20 students, the institute has been able to create its own niche. The excellence and quality that we have demonstrated over the years have grabbed the substantial attention of the student community, given which, today we receive several applications for training annually," says Rajni Rajni Joshi, Director, WWA. The institute is duly registered under the Ministry of Corporate Affairs and is certified by the International Standards of Organization to provide professional Aviation training. Students aging between 17 � 25 and 12th/Undergraduate/Graduate qualification are welcomed to avail Diploma and Certificate courses in Aviation, Hospitality, Retail and Travel Management.
The factor that assists the institute to stand out among the other aviation training institutes is its guarantee of 100 percent placement. "We follow certain protocols like the interest of students in taking up the profession or their level of commitments during the admission process. The job assurance we give is our responsibility, hence we shortlist only 60 candidates per year out of all the applicants," elaborates Joshi. The students of WWA have received salary packages ranging from Rs. 15,000 to Rs. 55,000 and the short training programs of the institute offers great career opportunities for the learners.
Under the dedicated guidance of the experienced faculties who are having industrial experiences, the students are provided with training that is well-planned and contains more of practical activities with theoretical learning. WWA also makes extra efforts in the form of grooming sessions, mock interviews, hospitality and aviation sessions that are taken on the field, including intensifying personal development, interview and communication skills. "Being presentable is one of the undeniable requirements in the aviation industry. Every such step that makes our students job-ready are undertaken by us," opines Joshi. Students coming from far places get access to the hostel facility of the institute. Joshi states, "Comprehending the difficulties students from towns and villages, we have initiated to reach to them personally and render consultation on a career in this field."