Higher Education Review ›› Magazine ›› January-2018 issue
Xavier Institute of Communications: The Icon of Indian Media Education
Author : HER Team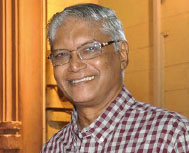 Fr. Lawrence Ferrao SJ, Director Xavier Institute of Communications
With an awe-inspiring architecture, St Xavier's College in south Mumbai has always been a hotspot for filmmakers. The cute pair of Aditi and Jai from the movie Jaane Tu Ya Jaane Na, the memorable college life portrayed in Kuch Kuch Hota Hai, Main Hoon Na and numerous TV Commercials owe success to the stunning shots captured on the backdrops ofSt. Xavier's College. An epitome of the Indo-Gothic style of architecture, the quadrangular area behind the foyer, the sprawling campus and the magnificent arches are still in our hearts.
For an annual intake of 250 students, XIC has employed over 150 faculty members, making an impressive faculty to student ratio of 5:3.
Now recognized as a heritage site, every nook and corner of St. Xavier's College has a memory and it connects Xavierites across all batches. World leaders like Barrack Obama, Hillary Clinton, The Dalai Lama and A.P.J. Abdul Kalam have visited this iconic 150-year-old campus founded by German Jesuits in 1869. Rajdeep Sardesai, Sunil Gavaskar, Vidya Balan, Zakir Hussain, Vikram Sethand Amish Tripathi are only a few among the countless Xavierites who have excelled in a vast range of areas. Partly located in St. Xavier's College campus and the St. Xavier's High School campus, the Xavier Institute of Communications (XIC) that follows the legacy of St. Xavier's Collegeis all set to celebrate its golden jubilee in a couple of years.
"At this challenging fiftieth milestone," shares Fr. Lawrence Ferrao SJ, Director of XIC, "we at XIC are in the process of planning landmark activities. The plans include, a National Media Conference, Film festivals, online courses, complete CCTV coverage, foreign university collaborations, better internships and placements, greater understanding and enhanced use of Social media."To achieve this challenging milestone, XIC has complete support of its Management, Bombay St. Xavier's College Society Trust, which wishes the Jesuit educational motto - Moulding Persons for Others and With Others - be kept alive.
According to XIC, the challenge of educating men and women for others can only be met by reinventing strategies and methods of education in keeping with the thinking of the times. Fr. Ferrao adds, "Education is not an end in itself. Today, the Jesuit educational mission uses the technologies and methods of the times. It is drawing out the best from persons who come to the educational institutions to learn how to grow into becoming good and balanced human persons; and, at the service of humankind."
The Jesuit ethos is contained in a Latin word �MAGIS. It simply means � to do more than what is normally expected, which encourages the students to rise up from mediocrity in order to meet the challenges of the day with renewed zeal. The 5000+ alumni members exemplify the motto of XIC and work in tandem with the alma mater to help the ongoing XICians to find their true North. Perhaps, that is the reason why, unlike many reputed institutions in the country, XIC do not boast of any major industry tie-ups.