Higher Education Review ›› Magazine ›› May-2018 ›› Special issue
YMT College of Management: Enlightening the Aspirants with Apt Business Acumen
Author : HER Team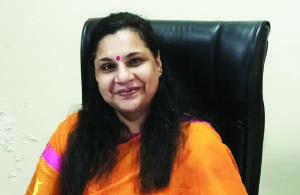 Dr. Swati Padoshi, Director YMT College of Management
A pioneer in offering innovative management and healthcare education in Navi Mumbai, Maharashtra, Dr. G.D. Pol Foundation was established in the year 1989 with the motto of providing professional training and education of the highest quality. Founded under the aegis of this foundation, YMT College of Management has been groomed and developed by young and dynamic Trustee Mr. Hrishikesh Pol & fulfills the need for management education by producing "complete managers" who are well-prepared to face the challenging business world &receive considerable job assurance. Awarded as "Asia's 100 Best and Fastest Growing Education Institute 2014-15 Process Advisors and Evaluators-iBrands 360" by World Consulting and Research Corporation and Accredited with B++ Grade by NAAC in the first cycle in 2017.
Targeting the wholesome development, at YCOM the students are nurtured with a lot of spiritual talks and mind conditioning along with giving emphasis on the curricular and co-curricular sphere. "As we are affiliated to Mumbai University, we adhere by the curriculum and pedagogies prescribed by the University, but we never stay behind to add on elements which will be beneficial for our students," shares Dr. Swati Padoshi, Director, YCOM. The institute conducts courses like Master in Management Studies (Equivalent to MBA), Masters of Computer Application (MCA) and Executive Program in Business Management (EPBM) for working and non-working graduate professionals.
The faculties of YCOM treat students like budding managers rather than mere students, making them confident in their workplace from day one.
Dr. Padoshi elaborates, "EPBM is a 12 months General Management programme which we offer in collaboration with European Global University, Paris whereas MMS is a two years full-time programme rendering the students the choice of specializing in various verticals like Marketing, Finance, and HR". With a batch size of 120, MMS students are allotted mentors in the ratio of 10:1 where very frequently each student meet their mentee individually and discuss their respective personal, professional and individual aims. The in-house faculty members of the institute mostly hold an extensive industry experience which helps the students to get assistance in their professional journeys.
Preaching a good blend of theoretical and practical approaches, the faculty members abide by the teaching techniques like PPTs, case studies, demonstration coupled with encouraging the students for undertaking summer internships and regular industry visits. "Apart from in-house faculty members, we also invite visiting faculties at least twice in a month, who sits on the top-notch positions of the industry for sharing their visions and opinions with our students," claims Dr. Padoshi. The faculties of YCOM treat students like budding managers rather than mere students, making them confident in their workplace from day one. With summer internship of two months and project which is an essential part of the MMS programme in the fourth semester, the students acquire optimum hands-on training at YCOM.