A Counsellor's Definition of Success
By Amrutha Ram | Thursday, 23 Nov 2017, 23:47 IST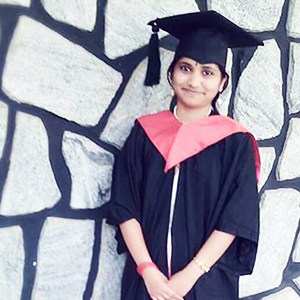 "The first counselling session with a 48 year old was not as easy as expected," says Manasa Raman, a young exuberant solution oriented counsellor. Though, she had faced similar challenges in her career till then, this was bit daring as she had to deal with a strong emotional base. To her surprise, the client could experience a great relief with the first session itself. With each proceeding session, Manasa was able to make the client open up more about the emotional challenges evolving within the mind.
Cognitive behavioural therapy is the methodology followed by Manasa in dealing with her clients. She always believes in a thought-oriented process in bringing behavioural changes. "It is all about the way we approach the problem. In every consecutive session with the client, I try to modify their behaviour by improving their outlook towards the life," pinpoints Manasa. At this young age itself, she has become well experienced in guiding people towards the right path, making her capable enough to deal with the clients having issues in career, academics, relationship and self-development.
Though, age of the counsellor remains as an important factor for many while consulting a counsellor, Manasa was able to convince her clients with her soft and convincing approach. Now, as a counsellor, she is very happy and everyday arouses in her, a keen interest in finding solutions to the ones approaching her. "In a way, the counselling is a space of learning for me as I get to handle various age groups. I gain confidence with every new client. Initially, it was difficult for me due to my lack of experience; but as I headed forward, I was able to convey my perspective and solutions in a way satisfying the clients," says Manasa.
The Turnarounds
For Manasa, the role as a counsellor and the study of psychology was a mere coincidence. In her Pre-University, Manasa was a science student, which was not her cup of tea, because the Math did not give her an enjoyable learning experience. Since her school time, however, she had an interest in learning English literature. This decision took her to MES College of Arts, Science and Commerce in Bangalore where she took up a triple main course including Journalism, Psychology and Literature. As she started, even though she knew psychology will be good, she never knew that in her future she would continue studying the minds of people.
"It was my final year during my study at MES that I realized my passion for dealing with minds. As a science that embraces the concepts related to human behaviour, Psychology, as for everyone was a fantasy for me. By the end of the course, I learnt the ways to deal with people who are struggling with mental blocks, but my interest made up my mind to have an in-depth knowledge about the subject for which I decided to go for higher studies at Christ University Bangalore," says Manasa.
Becoming a Counsellor
We all have those moments, places or people in our life that would just come and change our life forever. Christ University was one such turnaround for Manasa. There, she realized that she would be a real time counsellor. Manasa took up Industrial Psychology (HR), which taught about corporate psychology and application of psychology in organizations. "Christ College changed my mind and my life. During my course, I could connect with more industry experts and was lucky enough to have opportunities to work with clients as a part of hands-on training. It helped me in knowing the stress handled by people working with the corporate world, which opened up the doors for me as a counsellor," explains Manasa.
Being a Counsellor
"Basically I train my clients to be independent with my counselling. The next time they face the same kind of an issue, they must not be in need for a counsellor," says Manasa. There is a huge difference between the passion and the liking towards something. She adds, "A very important factor in life is to find your passion. Once you reach your point of passion, work on it so that every day will bring you a new learning and experience. Now, a positive feedback from a client makes my day. I work on my field to my best to hear, 'you could make my problem light,'".
Although, Manasa's journey looks smooth and straight, she knows that nothing worked as she expected. When she started making use of the opportunities, however, she found the best for her. At times, it is also important to go with the flow rather the planning for something that you do not really want to do. As John Lennon, the singer-songwriter of the famous Beatles said, "Life is what happens to you while you're busy making other plans."