An Episode in the Life of an Altruistic Medical Student
By Raman Balakrishnan | Monday, 13 Nov 2017, 21:47 IST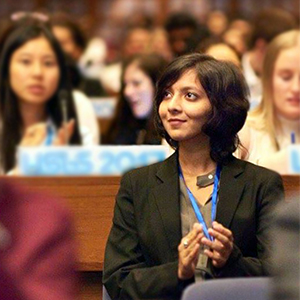 Poorva Patil, MBBS student of Kasturba Medical College, who was termed misfit during her schooling, happened to be the youngest representative from India to attend the Conference at United Nations. The message she wants to set out to her generation is: "If you fall down and lose your spark, it is okay. But when you rise up, make sure you have the goddamn fire."
"Because I'm happy" – Have this song of Pharrell William made you feel happy or at least provoke you to be pseudo happy? Sometimes it really takes time to understand what happiness is all about. But if you start respecting others feeling and start working on helping others, then you might find a better definition. If you have wondered how that is possible, then you have to know about this altruistic person from Ratnagiri which is 300 km far away from the 'City of Dreams,' Mumbai.
August 1, 2017 – Poorva Patil travelled to attend this meet University Scholars Leadership Symposium (USLS) 2017 to be held at the United Nations Conference Centre, in Bangkok, Thailand. She was the only Medical student who was invited to represent India. This was a great opportunity for her as she was able to network with like-minded people and also brainstorm with UN authorities on Sustainable Development goals. But, how did Poorva get selected when there are 1.3 million people in India? Here is a short synopsis of her life.
This Part of her Life is Called "Mimicking her Role Model"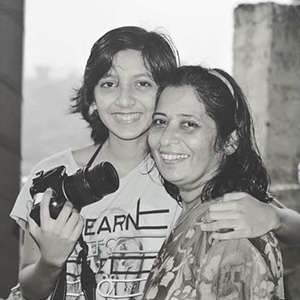 Her mother was an ophthalmic surgeon from Ratnagiri named Dr. Radharani Patil. But why was she considered as the role-model in Poorva's life. In her life, she happens to play the character of Chris Gardner from the movie "The Pursuit of Happyness." She works round-the-clock and also makes sure that she spends ample amount of her time in taking care of Poorva and her brother. Even with having so many debts, she used to provide free treatment to her patients who cannot afford. "She used to send our own cars and ambulances to rural areas and our specialised team will screen those people. If they are diagnosed with cataract, glaucoma and so on then they will be brought to my mother's clinic where they will receive their treatment. When I was 10 years old, I used to go through her operation videos and try mimicking her. But I really wanted to be part of all her operations and I finally realised to take up a career in the field of Medicine," explains Poorva.
Travelling to a Boarding School
When she was in her eighth grade, she had to go through chaotic situations as both the schools in Ratnagiri have given up on her. The only option left to her was homeschooling. After a year, Poorva gained confidence and joined the residential school. "I was able to have a huge bunch of memories during my days in residential school. We had the best teachers who used to interact with us like good friends. I was able to interact with them regarding anything which includes family issues, personal issues, and academic problems and so on," claims Poorva.
Overcoming Depression
Poorva was able to get through all her hurdles except one "Depression." Even with achieving 93 percent in her twelfth grade, she wasn't able to go abroad because of lack of funds. Poorva explains, "The first thing which one must understand when they are under depression is what the problem actually is. If you could find the source then you can really solve your problem. So, for me, it was even more difficult as I wasn't able to sort my problems because I was doing academically well. To overcome depression I understood that we must need to keep ourselves busy. I started to learn baking and I felt that it was the best thing I did to keep me busy and happy." She was very consistent towards achieving her goals. She was able to clear the medical test NEET (National Eligibility and Entrance test) and bag a seat into Kasturba Medical College.
Working for NGO
Poorva's ebullience is boundless as she was able to work on a wide range of issues. She is a research intern with the Student Research Forum at Manipal, an active member of the Volunteer Service Organisation, Red-x, bio-ethics committee, a graphic designer at MTTN, Campus ambassador for Wikipedia. Back in her hometown Ratnagiri, she is a core volunteer of Wildlife survivors (NGO working for protecting and conservation of Wildlife), and also played an active role in numerous other NGOs that focus on health and sanitation, hunger, poverty, child welfare, gender equality, wildlife conservation and climate change. She loves to learn more on Surgical and medical advancements. "I'll take up a career as a full-time surgeon and also want to start an NGO in my place. The message, which I want to give out to people of my generation, is that – we are not really serious about many things. As most of us don't listen to what they really want in their life. We give up our dreams if we feel that the doors are shut and don't search for an alternative to achieve it," concludes Poorva.