ASM Group of Institutes announces a collaboration with IBM
By HER Team | Wednesday, 10 May 2017, 18:22 IST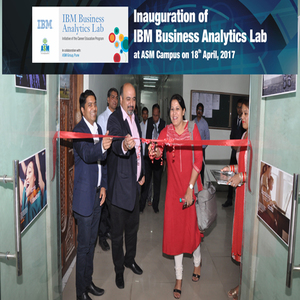 ASM Group of Institutes, one of the leading institutes in Pune today announced a collaboration with IBM (NYSE: IBM) to help students learn about technologies such as Big Data and Business Analytics. As a part of this initiative, the institute has set up an IBM Business Analytics Lab to aid its Career Education Program whereby faculty members and students will be equipped with the knowledge and skills to work on various analytical tools and techniques to analyze and predict data.

This collaboration will help reduce the skills gap between the demands for skill in various industries. It will help the Institute hone and train executives equipped in the area of Business Analytics. Under this program, IBM is helping ASM Group of Institutes develop an innovative curriculum, taught by IBM subject matter experts and Institute faculty members. The students will have access to relevant IBM software, such as IBM Cognos BI and IBM Infosphere Biginsight. Under this collaboration, ASM Group of Institutes has launched a new Post Graduate Management Program with specialization in areas of Descriptive, Predictive and Big Data Analytics.
Commenting on the collaboration, Mr. Sandeep Pachpande, Chairman, ASM Group of Institutes said, "The time has come to move beyond qualification to building expertise. There is a pressing requirement for niche specialization to empower students with skill sets to emerge as definitive value addition to their respective organizations. These co-branded programs ensure need based specific development to greatly enhance the employability of ASM students."
"The data science skills gap continues to widen as demand continues to outpace the amount of skilled workers available. Our partnership with ASM Group of Institutes will help us blend technical and problem-solving skills that are necessary to prepare students for careers in these fields. By using experiential learning modules along with innovative curriculum developed and taught by IBM, students will work on projects that emanate from real-world business scenarios," says Mr. Kaushik Bhaskar, Vice President, IBM India Software Labs.