Bangalore: A City to Learn and Teach
Friday, 27 Oct 2017, 18:49 IST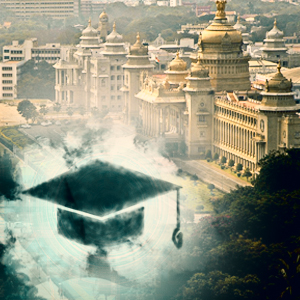 Every year there are constant developments in the industry with new technologies or emerging trends. The institutes on noticing these changes are trying to change their curriculum in order to prepare the students to face the industry. However, the student success is also influenced by the right faculty members and optimum use of modern teaching methodologies.
The city of Bangalore constitutes a lot of educational institutions with the right mix of success opportunities and excellent faculty members. Bangalore is named as the silicon valley of India and is constantly thriving. A majority of multinational companies such as Google, Microsoft, MindTree, Bosch and others based around the world are setting up their bases in India and providing thousands of Indian graduates jobs. These companies are the forefront runners in the field of technology and constantly develop new or modify existing technologies. Faculty members working with institutes in Bangalore can gain a better insight as these technologies get launched here first. The faculty members who are keen on improving their knowledge and interested in the world of research are able to gain better advantage of working with an engineering institute in Bangalore.
Over the past couple of years, these corporations have sponsored researchers in institutes in Bangalore as it is more feasible and cost-effective. The faculty members in Bangalore have more possibilities in working with corporate organizations as they are constantly looking for new and innovative technologies. By working in such environments faculty members can become forefront runners in a field of their choice. Faculty members working in such projects are able to gain further investments by the companies in terms of infrastructure and also the chance to gain accreditation, scholarships and fame.
It is important to note that in terms of infrastructure, the engineering institutes in Bangalore are far better than institutes around the country. With the increase in the emphasis on research and constant expansion of technology companies in Bangalore, the institutes are constantly increasing the quality of infrastructure they possess. This step allows number of faculty members to participate in research, thus increasing their knowledge. By allowing a faculty member to increase his/ her knowledge, the faculty member is able to pass the knowledge to the students which improve their performance. This process helps in increasing the value of the faculty member.
The number of researchers and corporate professionals entering into the academic world has increased since the last couple of years. The working professionals who teach students on weekends about the latest developments in the world of technology find peace and happiness. With so many corporate organizations, the institutes are able to attract more working professionals to work as temporary or permanent faculty members. With such an amazing ecosystem where the institutions and the industry work hand in hand, Bangalore is the place for any faculty member to become the best faculty member.