Don't Hesitate to Unveil your Culinary Skills!
Thursday, 03 May 2018, 22:01 IST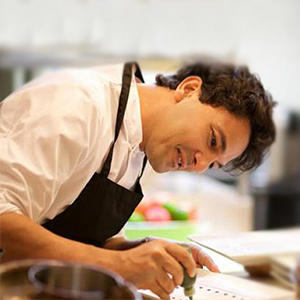 Earlier chef as a profession in our country was only meant for those people who used to have fewer qualifications and was economically weak. Those individuals were supposed to cook in eateries and earn their living. It was also regarded as the highly female-oriented job who were addressed as "cook" rather than a chef. But lately, this profession has evolved into a trendiest career options for the youth with the reorganization the modern day chef are receiving. If you are interested in this field, you should definitely consider these points:
Synchronize with the Inclination
Today we have a range of successful chefs like Vikas Khanna, Sanjeev Kapoor, Ranveer Brar and so on, from India who had started from the scratch and achieved the status of a celebrated chef in the international platform. The heart-touching story of Vikas Khanna, who is a successful chef, restaurateur and cookbook writer is an example for all the rising chefs who are staying back to opt this profession considering the stereotypical thinking of their family members or the society. Born with misaligned feet in the city of Amritsar, Khanna, twisted all the shores towards his side which was against him and earned the title of "The hottest chef of America" with his passion and fond for cooking along with popularizing the Indian cuisines in abroad. Therefore, listen to your hearts, not the people.
A Quick Glance into the Scopes
The career prospects for students who have a right sense of cooking and are qualified from culinary institute don't remain constraints within the wall of being an employee, they can go beyond the conventional path and initiate their own food venture in a form of restaurant or a food truck. The idea and innovation have got no limits in this area; you have got all the liberty to practically turn every dish into a masterpiece with your creativity. Ask any chef what he likes about his job and he'll tell you the thrill and excitement they go through while trying new dishes and cuisines, they are busy but never bored. Today, he could be cooking for a marriage party and tomorrow he might be planning menu for the President!
Be Unstoppable and a Game Changer
Almost everyone on this planet has the weakness in a particular cuisine which they love to eat but cooking those mouth-watering foods are not everyone's cup of tea. It is an art which requires your heart and hands more than your brains. You might stand out in a group of your classmates who mostly are engineers, doctors, and teachers if you are a chef, but isn't it cool to be unique and exceptional in a way which is appreciable? Gender biases is an out-dated thing and we being the 21st generation populace are not here to follow the one, bring on revolution and embrace the 'out of the box' factor in you. Tell them that the job of a chef is not that plain sailing what they think of, it introduces you to new challenges every day and no two days are same.
Top Institutions Offering Culinary Courses
The present generation chefs are not the people who left school at 16 and bound to get into cooking, instead they are the professionals who left everything behind to learn and do what they really desire. There are numerous culinary schools mushrooming worldwide to impart culinary arts to students who aspire to shine in the future as an executive and senior chefs in luxurious resorts, chains and top hotels who are offering a fare salary package to the one having cooking talent. Some of the prestigious intuitions which host course in the same are Culinary Academy of India, Institute of Hotel Management, Pusa, International Institute of Culinary Arts and many more.
So, don that smart white apron proudly, flaunt as a charismatic chef, own a YouTube channel sharing your ideas and cook toothsome food for people around you because food is pure love. Happy cooking!