How to adjust with the new surrounding at your graduation level
Monday, 04 Jun 2018, 17:29 IST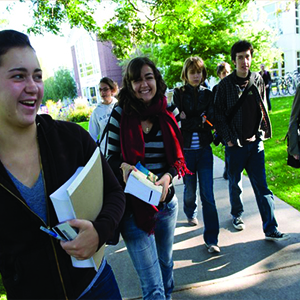 There are many issues faced by the students when they move from their comfort zone to a different place for their graduation. There are various commonly faced issues like adapting to the new environment which is culturally and socially different is a difficult task. We have found that there are a few methods to overcome certain obscure movements and make you explore and manage the new challenges.
Cultural adaptation - When you arrive at your new campus, there will be lot of new people coming from different parts of the world studying with you. So, it is very natural for someone to encounter cultural shock. But, this is a challenge as it is the first thing you learn in life 'Cultural adaptation'. Initially, there will be a lot of mistrust between them but once you start working with them academically; you will be able to sort out your differences and similarities with them. However, if you keep positive note on adjusting to the new environment, you will be able to overcome the cultural shock.
Attending orientation -Most of the students fear of getting isolated as they have no friends at the new place. Most of the institutes conduct orientation at the beginning of the year. If you attend this, it will provide you with a positive edge of introducing your fellow students. Another important aspect of this orientation is that you will understand their culture. Most of institutes will ask you to register prior before attending so keep a note on the updates issued by the institute.
Avoiding Homesickness - As you are away from your family and friends, you tend to feel homesick at your new place. Try not to get into depression, and try to spend more time with your friends and family via social networking platforms till you get comfortable with the new place. It will take 2-3 months time to familiarise with the new place and people.
Adjusting yourself to a new cuisine – It is one of the biggest challenges you will face. And craving for home-made food is very common among the students. Each country has its own specific cuisine which is designed to their climatic conditions. It may take you some time to get used it. But, there is no need to worry at all as you can easily find good restaurants in there and locals can give you the best information and tips about cafés, restaurants, and cool places. They would give you detailed information about the city!
Importance of Part time jobs - Most of the students take up part-time jobs when they are pursuing their graduation. But, they face many hardships at the initial process but they intend to develop better time-management skills than their counterparts. They learn to weigh their priorities, sometimes skipping fun activities to finish their responsibilities. This prepares them for life after college. The students taking up part-time jobs tend to get accustomed to the professional world and get recruited into companies as soon as they complete their graduation. As, employers tend to look for employees who can understand the work environment.
You can also read: 5 Things to remember while relocating to a new city for a higher study