SOIL India concludes its Annual Business Conference 2017 in Gurugram
By HER Team | Friday, 27 Jan 2017, 18:25 IST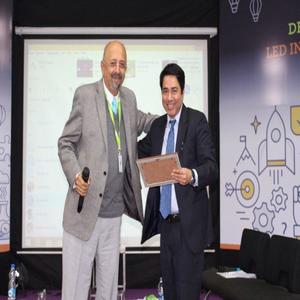 SOIL or School of Inspired Leadership, a Gurgaon-based business school, recently concluded its Annual Business Conference 2017 on 'Design Thinking led Innovation'. The event, which was held in the establishment's campus in Gurugram, underlined the importance of establishing dialogue around design thinking, and how it can be used to make room for innovation across various sectors in India.
The 2-day event, which commenced on 20th January, 2017was led by key industry leaders like Anil Chaudhary – Country President & MD Global Operations (Scheneider), and SaurabhGovil – President & Chief HR (Wipro),who contributed their valuable insight during the conference on topics like Reimagining people processes through design thinking and Design and Innovation for Indian Businesses. They also introduced various Design Thinking methods and tools through supportive theory, frameworks, and relevant case studies during the conference.
What's more, the SOIL forum also included workshops for participants to hone their skills on design based thinking to develop creative solutions for various issues.
Commenting on the conference, Anil Sachdev, Founder and CEO, School of Inspired Leadership said,"Human beings are a source, not a resource. With the help of the concepts of Design Thinking, we at SOIL are teaching our future leaders how to build an organization of consequence by bringing out the highest and best in people for the greater good"
Speaking on the occasion, Bimal Dayal (CEO, Indus Towers)said – "Believers are the continuous improvers! Indus Towers is a live example of innovation and collaboration which has stitched the fabric of this industry which did not exist ten years back. Design thinking perfectly fits into our framework to create something disruptive."
Apart from Anil Chaudhary and SaurabhGovil, other eminent speakers who participated in the event include: Laura Kohler, Senior VP (HR & Stewardship), Kohler, Krish Shankar, Executive VP & Group Head of HR, Infosys, Rohit Thankur, Head HR, Microsoft, and Raghu Krishnamoorthy, VP HR, GE Healthcare, among others.
CHRO round table:
'Speaking on the topic of Reimagining people processes through Design Thinking', Ms. Laura Kohler, (Senior Vice President - Human Resources &Stewardship, Kohler) said –
"The Oz Principle states that - 'See it, own it, solve it and do it!' At Kohler, we stress on the first part 'See it' which allows us to look at problems and launch a pilot by getting a bunch of people together to work on the idea. We are moving towards a people centric environment giving freedom within a framework by empowering and engaging people to be a part of the solution."
The conference concluded on 21st January, 2017 on a positive note with the Design Thinking Bootcamp, encouragingprospective business leaders to "Think. Collaborate. Celebrate." for a successful professional future.