Things to know about the upcoming NET examination 2018
Monday, 21 May 2018, 18:23 IST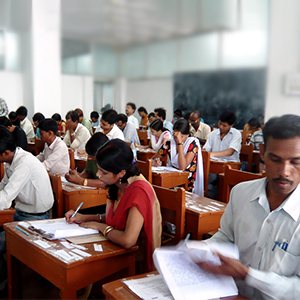 The Central Board of Secondary Education (CBSE) is providing the qualifying exam UGC NET for those who are aspiring to become Researchers and lecturers. As per the information, the exam will be conducted on 8th July 2018. But, this year, the National Eligibility test has set out new relaxation notes to their aspirants appearing for the exam. The official notification by the CBSE states that the upper age for NET JRF exam is increased from 28 years to 30 years.
• The CBSE is conducting exams in 84 subjects at 91 centres all over the country. However, the candidates who want to qualify the exam must understand the syllabus provided in both the papers in the NET exam. However, the students can get to know the pattern through visiting the website (ugc.ac.in/net/syllabus.aspx) of the UGC. Most of the students invest their money buying books for NET exam. Instead of purchasing new books, if the student visits public libraries, they will get easy access to the books related to the exam.
• Now, after getting a complete understanding of the syllabus, the students must follow an important strategy to prepare for the competitive exam. The first step in their planning must involve preparing short notes, as it is one of the best ways to complete the vast syllabus. But, when preparing notes it is better to keep different books and mark the chapters with a bookmark for future reference. Underlining and highlighting are other ways to mark important points.
• The most essential skill while preparing for the NET exam is enhancing time management skills which will help you when appearing for the NET exam.
(1) How to manage time before Exam: It is not necessary for the aspirants to study 24*7 as the main focus must be completing the syllabus. For that, if you allocate time according to the syllabus and make sure that you can focus completely 4-5 hours on the particular subject without getting distracted. At the end of the day, try to do a daily revision.
(2) Time management during exams: The NET exam is all about time management. Both the papers are set by CBSE to check your eligibility in becoming a researcher or assistant professor. So, try to solve as many question paper as possible and mark the ones difficult for you to refer later.
• Try to keep yourself updated with the current affairs and also keep a track on the updates issued by the CBSE NET examinations. It is quite common for a person to get stressed but don't let it affect your personal life. Try to take breaks while studying. You can also read the article on Scientifically Proven Ways to Study Better for the Competitive exams. Don't try to spend more time in the study room isolating yourself from others; it will lead you to depression.