Vision 2030: A transforming Vision for Education in India
Tuesday, 27 Jan 2015, 21:31 IST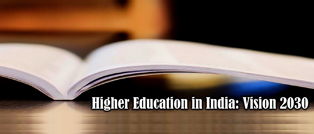 The recent reports released by Federation of Indian Chambers of Commerce and Industry (FICCI) and Ernst and Young (EY) on Higher Education in India during the FICCI higher education summit held at New Delhi from 12th to 14th November 2014: Vision 2030 looks ahead at a time when India will be a leading global player in education and amongst the youngest nations in the world, with nearly 140 million people in the college-going age group. With one in every four graduates in the world will be a product of the Indian higher education system. The vision 2030 is aligned with policy foundation and envisages the student at the core of the Globalised world. This can be achieved only by educating and empowering youth through a sound education system with a clear vision and a time-bound roadmap.
Over the last two decades, India has remarkably transformed its higher education landscape. India has not only bettered its enrolment numbers but has enhanced its learning outcomes. Amitabh Jhingan, partner and national leader – education practice, EY (Ernst and Young) said, "In order to realize the goals we envision for 2030, adopting a transformative and innovative approach is critical across all the levers of higher education: from curricula and pedagogy to the use of technology to partnerships, governance and funding. Making rapid progress over the next two decades would require a committed and concerted effort from all stakeholders involved ie academia, industry, and government." With the effective use of technology, India has been able to resolve the longstanding tension between excellence and equity.
The country has also undertaken large-scale reforms to better faculty-student ratios by making teaching an attractive career path, expanding capacity for doctoral students at research universities and delinking educational qualifications from teaching eligibility. Despite the government's increased spending on higher education by 37 percent from `195.1 billion in 2011 to `267.5 billion in 2013-14, for realizing the vision, it is important to adopt a learner-centered paradigm of education, introducing multi-disciplinary, industry-oriented, entrepreneurship, and skill-based courses, and adopting new pedagogical techniques such as blended learning, flipped classroom and experiential learning. Incentivizing and facilitating faculty development and exchange programs; attracting and incentivizing best-in-class faculty to conduct research.
India has undertaken massive structural and systemic changes that have started to yield encouraging results. The country has been touted to have the best-in-class post-secondary education system at present. These factors will contribute to the growth and can help envision the 2030 dream.